Search Knowledge Base by Keyword
How to Generate Invoices Report Template in LSM?
Generating invoices can be a time-consuming task, especially when you are working in a busy laboratory where you might receive multiple tests/jobs from various requesters. The Lab Service Manager (LSM) add-on

for LabCollector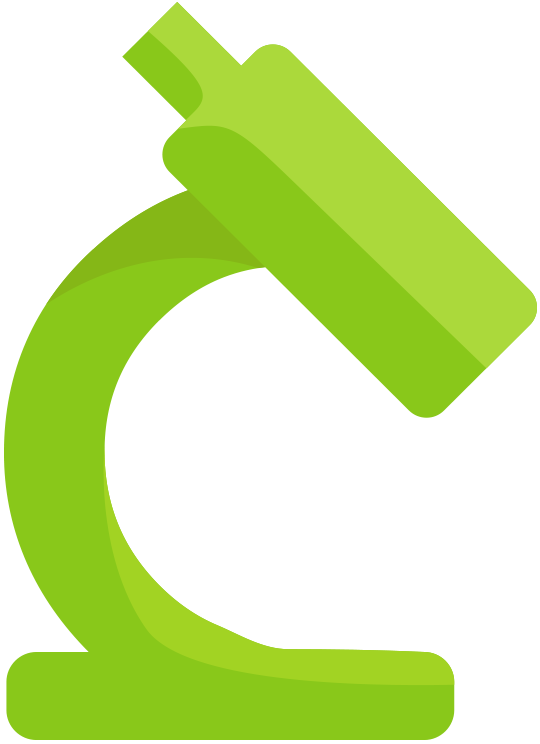 simplifies the process and helps you generate professional invoices in a matter of minutes.
Upon completing a test and generating a comprehensive report, it's time to create an invoice for the services rendered. For a step-by-step guide on how to generate a report, please follow the provided link.
In the following Knowledge Base, we will show you all the steps needed to generate an invoice for a test that you have performed:
1. Create an Invoice Template
2. Manage Test Costs
3. Generate the Invoice

1. Create an Invoice Template
The first step to generating invoices is to create a template that you can use repeatedly. With the LSM add-on, you can easily create a custom invoice template that includes all the necessary details such as the lab's name and address, the client's name and address, the date of the test, and a description of the services provided.
Please, check out our KB on how to create templates.

2. Manage Test Costs
Once you have created an invoice template, you need to manage the cost of the test. In the LSM add-on, you can set a fixed price for each test or calculate the cost based on the time and resources used. This information will be automatically populated in the invoice when it is generated.
To do so, go to LSM add-on

. Then, go to Admin -> Preferences -> Costs.
Once inside, click on the "Edit" button as shown in the screenshot below: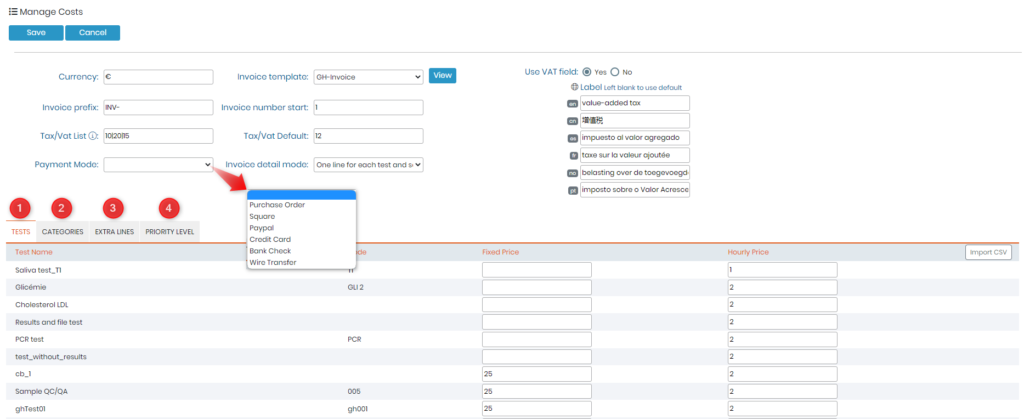 By doing so, you can now select your preferred currency and specify various details, such as:
A Prefix for Each Invoice: Start each invoice with a unique identifier, such as a prefix, to ensure that they are easily distinguishable from one another.

Tax and VAT List: Manage your tax and VAT information easily and efficiently. You can choose to add a default tax or VAT if you have only one, or you can add multiple tax and VAT options to your list.

Offer your clients multiple payment options, such as PayPal, Credit Card, and Bank Check…etc. The LSM add-on gives you the flexibility to choose the payment methods that best suit your needs.

Invoice Templates: Select the invoice template that you created in "Admin -> Preferences -> Reports & Invoice Template", to ensure that your invoices have a consistent and professional appearance.

Invoice Numbering: Choose where you want to start the numbering for your invoices, allowing you to maintain a seamless and organized invoicing system.

Display Options: Decide whether you want your invoice details to be displayed as one line for each test and sample, or grouped by test and sample.
Please, refer to the numbers displayed in the screenshot above:
 1. Under the Tests section, you will find a list of all tests (that you have created in Admin -> Preference -> Tests). Each test is accompanied by its unique code, fixed price, and hourly price, making it easy to find the information you need.
 2. Under the Categories section, you will find the test categories (that you created in Admin -> Preference -> Tests), along with their corresponding fixed price and hourly price.
 3. Under the Extra Lines section, you can provide additional information to accompany each test, such as additional costs, discounts, or any other relevant information. This feature allows you to add any necessary details to your invoices, making them more comprehensive and accurate.
 4. Under the Priority Level section, you can categorize each test according to its urgency level, whether it be "Urgent," "Routine," or "Same Day." This feature ensures that you prioritize your workload effectively and ensure that your clients receive the results they need, when they need them.

3. Generate the Invoice
The final step is to generate the invoice. With the LSM add-on, this is a simple process that can be completed with a few clicks. Simply go to Admin -> Contacts -> Requesters.
Then, click on the requester you want to create the Invoice for (as shown in the screenshot below).

Under the requester's details, go to the Invoices option, then select the Job/Sample/Patient you want to generate the invoice for. Finally, click on the invoice number (as shown in the screenshot below).

When you navigate to the Invoice section, you will be able to view all the crucial details of your invoices in one convenient location. Let's take a closer look at what each section has to offer:

 1. Status: The status of the invoice is clearly displayed, indicating whether it is quoted, issued, pending, or paid. This feature allows you to quickly and easily keep track of the status of each invoice.
 2. Tax/VAT Rate: In this section, you can add the tax or VAT rate that applies to your invoices, ensuring that your calculations are accurate and up-to-date.
 3. Purchase Order Number: You can easily add the purchase order number that you created while generating a Job, making it easier to track and reference your invoices.
 4. Date & Discount: The date of the invoice and any discounts that may have been applied are also displayed in this section, making it easy to reference and manage your invoices.
 5. Subtotal & VAT: The subtotal and VAT are calculated automatically, ensuring that your invoices are accurate and up-to-date. With the LSM add-on, you can focus on performing tests, knowing that the invoicing process is taken care of.
You can also add the costs of each test, either on a fixed or hourly basis. If you opt to use an hourly rate, you can add the number of hours you spent performing the test.
When you are done, Click on


After saving the invoice, you will see the below options:

Tips/Hints
You have the option to import invoices either in a CSV or PDF format.
.
Below is an example of an invoice (PDF format).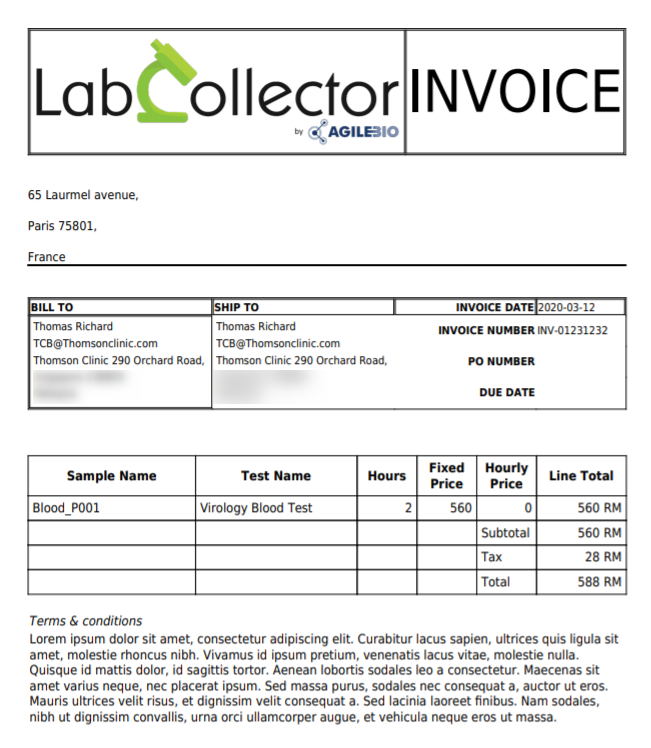 You can also access your list of invoices by navigating to the 'Invoices' section under 'Admin'.


Related topics: