Manage Your MSDS Files With Your Chemicals, Reagents & Supplies
We do not provide or offer MSDS or SDS documents/database.
Keep track of all your chemicals including safety data from MSDS, SDS and GHS (Globally Harmonized System of Classification and Labelling of Chemicals).
Easily manage MSDSs acquired from multiple sources
Manage files in one central database for one location or multiple locations
Summarize MSDS & other Hazard information that are relevant to your own SOPs.
Link MSDS, SDS & GHS records directly with all your other information about chemicals makes keeping up with safety easy.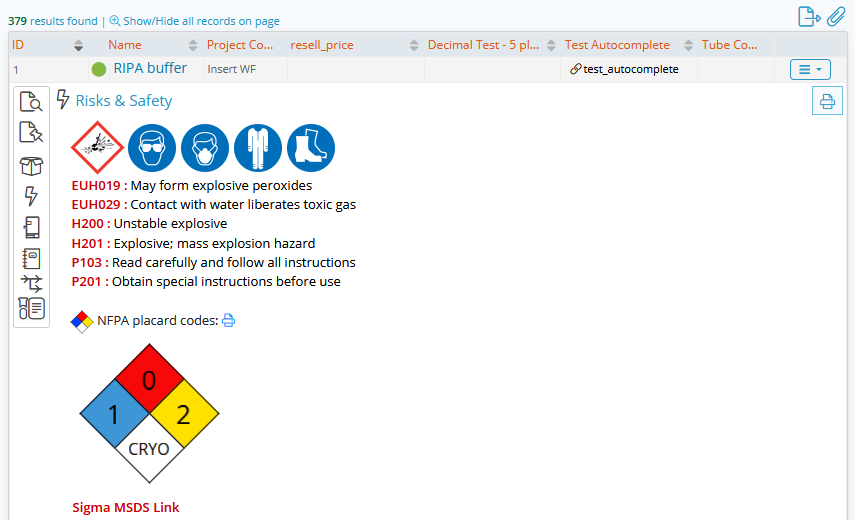 Ensure Chemicals Are Stored & Used Safely
LabCollector is able to link all your information about each of the chemicals in your inventory. Hazard pictograms and NFPA symbols can be included with records.
LabCollector already keeps track of the product identifiers including name, manufacturer & suppliers and contact personnel. By including information from the MSDS, SDS and GHS documents you also have easy access to the physical data, properties, fire/explosion hazards, toxicology and reactivity information.

LabCollector also helps you meet OSHA and EU standards for maintaining accessibility requirements of safety and hazard information (HAZCOM Hazard Communication in USA).
Adding NFPA symbols and graphics to associate with each entry is simple.