How do I get out samples from a specific freezer?
In the module SAMPLES for example, you can filter by storage equipment. Expand the search options, then configure the storage filter choosing your equipment in the select list. To validate the search, use the magnifying glass blue button.


At this point, you have the list of all your samples in this freezer.
Memorize them using the icon at the top right of the list.

Then go to, TOOLS > Manage memorize items, select all the sample using sign +, and select in the list the action Generate worklist (if you only have Main Storage) or Generate worklist w/ sec storage (if you have main and secondary storage) and click on Do!. If you have more than one freezer used for secondary storage, all positions will be deleted.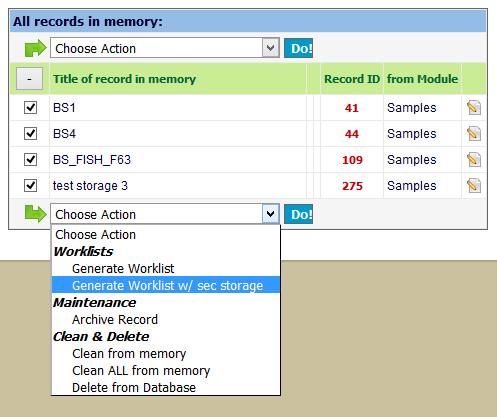 On the resulting window, use the link Remove all from storage and in the new pop-up, chose Main (and secondary storage) then proceed.

---