How to reassign or remove batches from batch list in LSM
Sometimes, you may create wrong batches in LSM. 
You can use the below trick to reassign or remove the batches.
To assign a batch to go to Job–>Job list and select the samples you want to assign to a batch.

For example, you make put a wrong name to batch to assign samples to a wrong batch. 
In the above image, let's say you made a wrong batch.
There could be 2 scenarios:-
You want to reassign the batch.


OR

You want to remove the unwanted batch.

To reassign batch
Hence to correct this situation, go to Group option and select the Batch-test-sample option.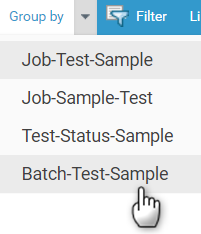 Now select the wrong batch 03 that you made. Now to reassign it to a new or correct batch, click on


You will see a pop-up like below, now you can reassign it to the correct batch that you want.


To remove batch
You can also just leave the batch name empty in front of the "New" option. Just click on add & assign. 

This way the wrong batch will be removed from the list.