Custom fields: Tab Analysis option
Some data can be available in the Analysis tab only, and not in the general record.
For example, data obtain later or which are changed in time.
To create a field in this Analysis tab, go to the Analysis tab screen.

By default, when you create a custom fields as for the main list (KB-Create custom field 5.2v), the option Analysis Tab in the section Field Location is automatically checked.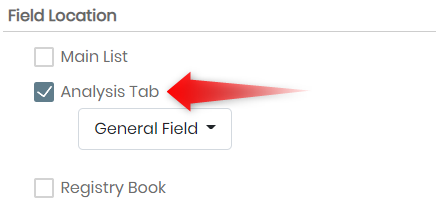 Use the icon

on the left of your record to open the tab.

If you use line separator as it's the case here (see KB-custom field type) and you choose a tab representation

instead of a list representation

, the analysis tab will be displayed as shown down below (please refer to the number 1). To change the view, use one of the icons on the top right corner. You can print these results independently of all the records in list view only with the help of the following icon

. These values are not exportable for the moment.

To add/edit values just click on Edit Values on the bottom right (as shown in the screenshot above, please refer to the number 2). The edition depends on the field type. Don't forget to click Save.

You can also import values as in the general export function (see KB-import & manage reagent & supplies). This function is only available for text, date and URL fields. If you have multiple tabs, you have to import one file per tab.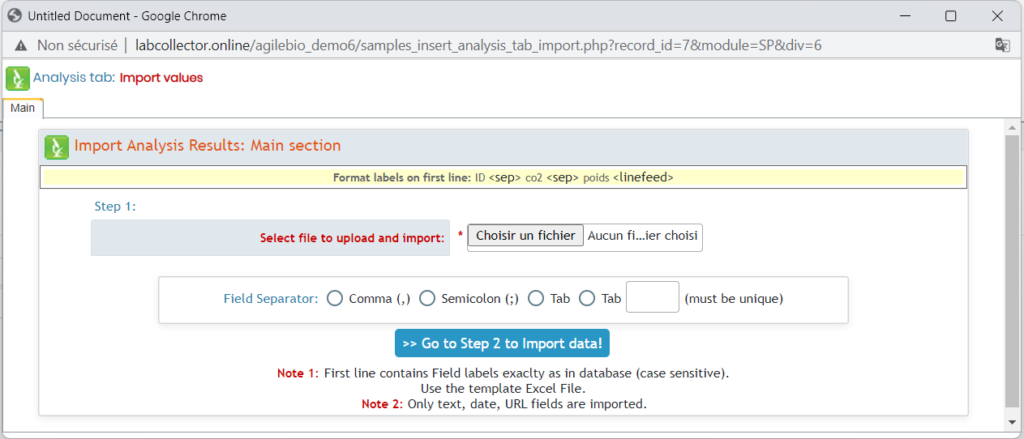 Related topics:


---
---