Search Knowledge Base by Keyword
What's Event Calendar add-on ? And how to use it ?

The Event Calendar add-on for LabCollector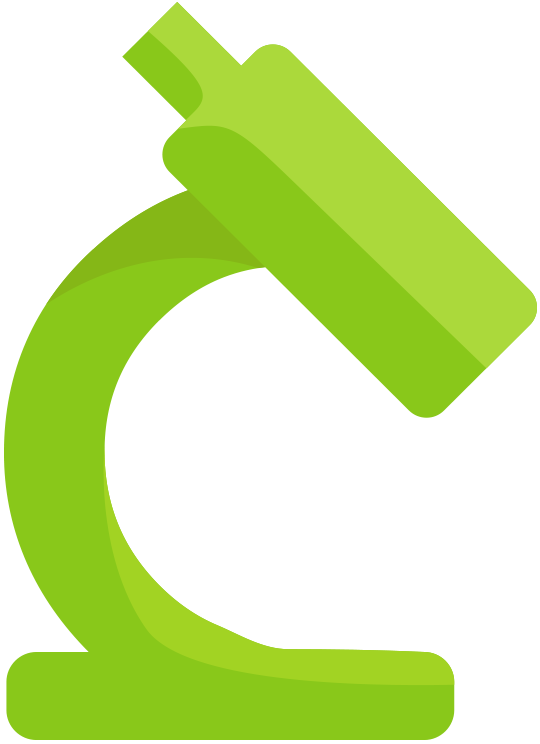 is a powerful tool for keeping track of research projects, technical platform service activities, and company projects. With its user-friendly interface, you can easily create and share calendars with your team, as well as import and export existing calendars with ease. This feature-rich calendar system will help you stay organized and on top of your schedule, so you can focus on what really matters: achieving your goals.
In the following Knowledge Base, we will discuss about the capabilities and usage of this add-on.

The below screenshot provides a visual representation of the main interface of the Event Calendar add-on. As you can see, the interface is designed to be user-friendly and intuitive, with a clear layout that makes it easy to navigate. The calendar itself is prominently displayed in the center of the screen, and can be viewed by day, week, or month.
On the left-hand side, you'll find a list of upcoming events, as well as the ability to filter and search for specific ones.
On the upper side, you'll find options for creating new events and managing existing ones.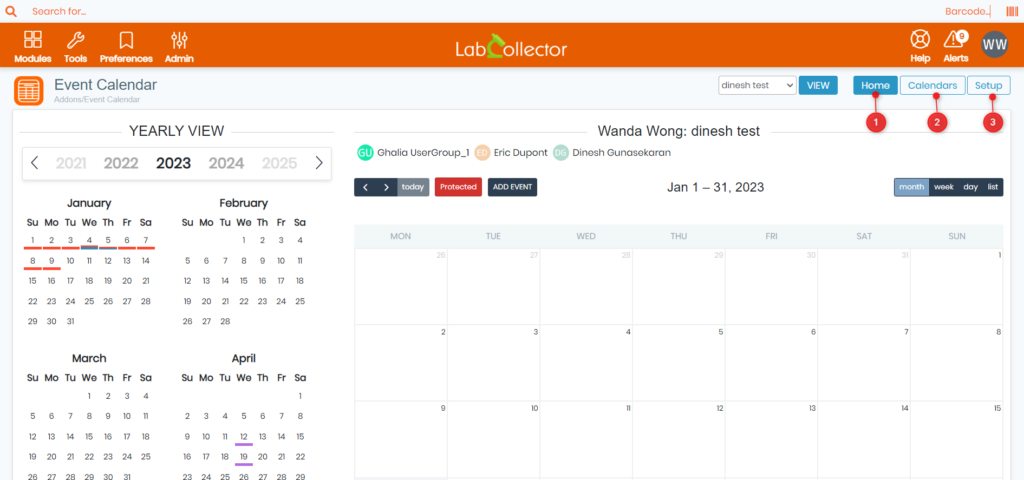 1: The Home page is the by default page that will be displayed once you access Event Calendar add-on, and it looks like the one in the screenshot above. The Home page is the default landing page that welcomes you upon accessing the Event Calendar add-on. It boasts a sleek and user-friendly design, featuring an intuitive layout that allows for easy navigation and organization of events. Additionally, you'll find a variety of useful tools and options to help you manage and customize your events to your specific needs.
We have provided a detailed description of each button and section, outlining their corresponding purpose and functionality. By familiarizing yourself with the layout and functionality of this page, you will be able to navigate and utilize it more efficiently: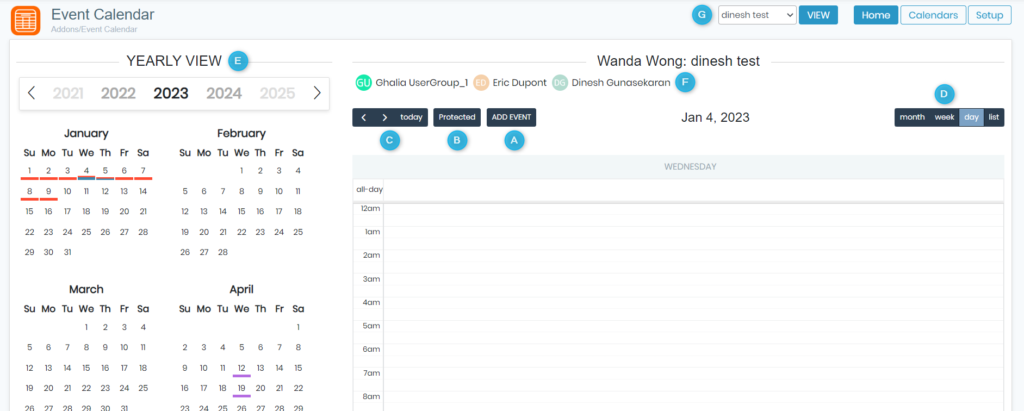 i:

Adding a title to your event is the first step in creating a new event. This title will be used to identify the event and will be visible to all user with whom the event is shared.

ii:

Select the start and end date of your event, which is crucial in determining the duration of the event. This will also allow users to plan their schedules accordingly.

iii:

Choose whether you want your event to be a one-time occurrence or a recurring event. If you select recurring, you can choose its frequency (daily, weekly, monthly, or yearly).

iv:

To help you easily identify your events, you can choose a preferred color for them. This will allow you to quickly identify what kind of event is coming up, and also make it easier to navigate your calendar.

v:

By turning the "All day event" option ON, the event will last for the entire day, rather than a specific time.

vi:

You can link your event to your LabCollector data by selecting the appropriate module. This will allow you to easily access relevant information from the LabCollector system, such as samples or reagents.
B:

The "Protected" button on our interface serves as a safeguard against accidental changes. When the button is blue, this indicates that protected mode is turned off. However, when the button is red, a pop-up screen will appear, prompting you to confirm any action you are about to execute. This can help prevent any unintended changes to your calendar.

C:

You can use the arrows to swipe the calendar to the left or right. Additionally, you can also click on to view current date's events.

D:

The calendar also offers various viewing options, such as the ability to switch between monthly, weekly, and daily views. You can also click on the button to display a list of all upcoming events.

E: 

Here you can select which Year you want to display.

F: 

This is a list of all users with whom the calendar is currently shared.

G:

Here you'll find a dropdown list, which allows you to switch between different calendars.
2: By clicking on

, you will be directed to a comprehensive list of all calendars that are currently available. This list will include important information such as the name, type, and the users or groups with whom the calendar is shared. Additionally, you will also have access to a variety of actions that can be performed for each calendar, such as editing or deleting the calendar, managing the calendar's sharing settings, and more. (As shown in the screenshot below).

By clicking on , you can change your calendar's name.
The sharing button

when clicked, will provide you with the option to select specific LabCollector users or groups with whom you wish to share your calendar.

You can also delete a calendar by clicking on , a new tab will appear

that prompts you to confirm the deletion of the calendar. This feature allows for easy removal of unwanted or no longer necessary calendars. However, it's important to keep in mind that this action is irreversible and all data stored in the calendar will be permanently deleted.
Be Careful note
Please be aware that when you delete a recurrent event, all future occurrences of that event will also be deleted. This includes any associated schedule or reminders, and the deletion cannot be undone. If you wish to delete only a specific instance of the recurrent event, you will need to do so individually.
You can also click on to get a unique token for your calendar, which then you can use to import into an external calendar software.
Note
On the right hand side of the screen, you will find options to import new calendars or export already existing ones in various formats, such as iCalendar (.ics), Google Calendar (.gcal), or Comma Separated Values (.csv).
Tips/hints
To create a new calendar, simply click on

located in the lower left corner, a new tab will appear asking you to input a name (as shown in the screenshot below).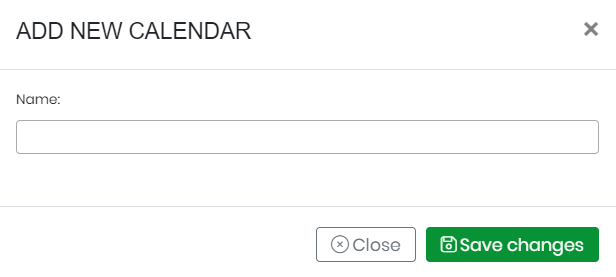 .
3: The setup menu enables you to manage your license and activation key, which you can obtain through your client area or by contacting the support team at [email protected]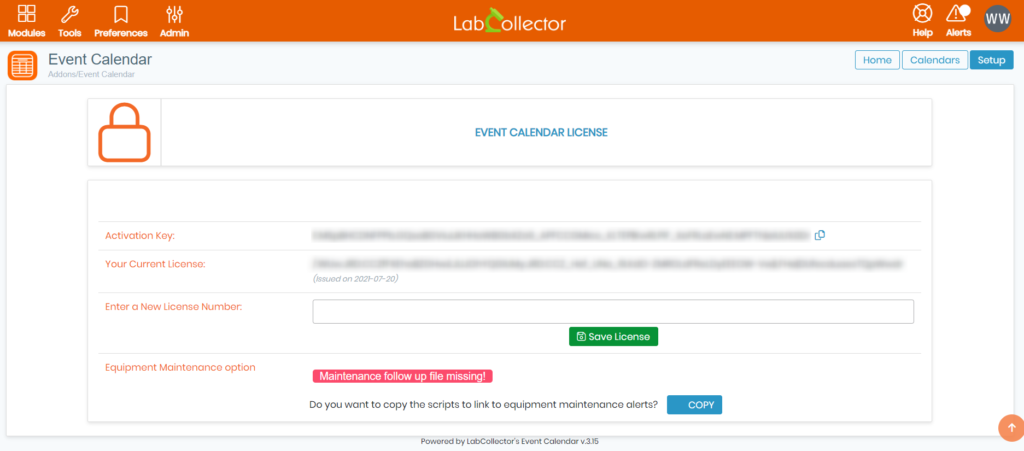 Related topics: