Search Knowledge Base by Keyword
How to store and manage straws? (EN/FR)
Following these few steps will help you to create storage based on straws and to manage them.
A/ Create the first level storage
Create your facility through Admin > Storage > Manage Storage > Facility
Create your storage equipment under Admin > Storage > Manage Storage > Storage equipment
Fill out the form. Under Equipment Type, please select Liquid Nitrogen with Canisters (Straws)
If you want to strictly follow your straw storage, fill in the right information in "Number of canisters" and "Positions per canister" or leave empty.

B/ Define color options
Go to Admin > Storage > Manage Storage > Options


The colors can be selected using the tool or by typing in the color code directly.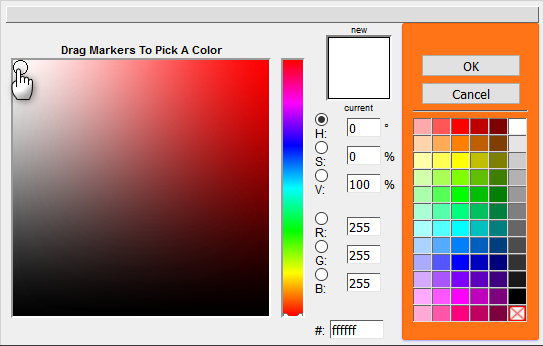 C/ Creating visotubes for straws
Choose the equipment where you want to create visotubes.
Click on "Add new drawer + a new box". The same form may be used to create a box (visotube) and a new "drawer" (canister) at the same time.
Indicate a box name (for straws: indicate the visotube name and color) and description.
Choose a box type: "Visotube for straws" and define the number of straws allowed (required).
Canister: select Add in new rack or existing rack and define a rack name.
Define a position in goblet.
You can also select "Save this box as a model" and then save.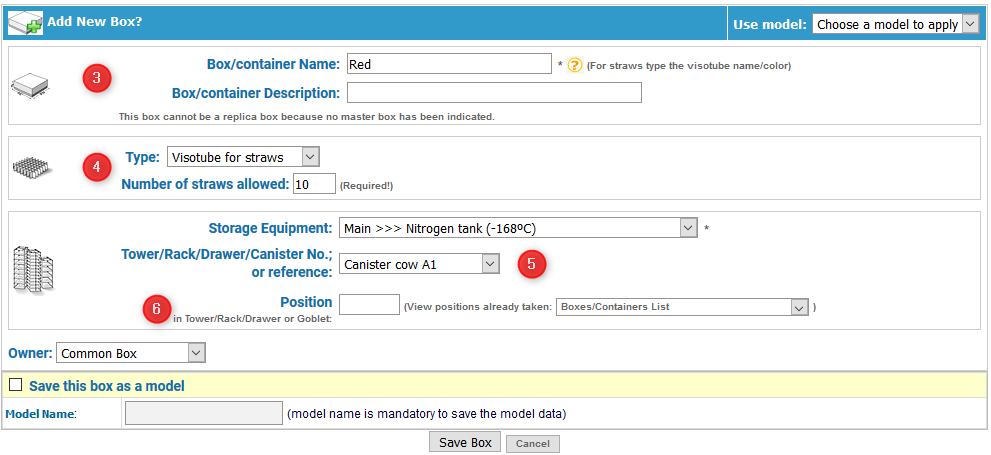 D/ Adding straws to a visotube
On the record that you want to store, click on Add secondary storage on the right.
A form opens up allowing you to choose the storage location.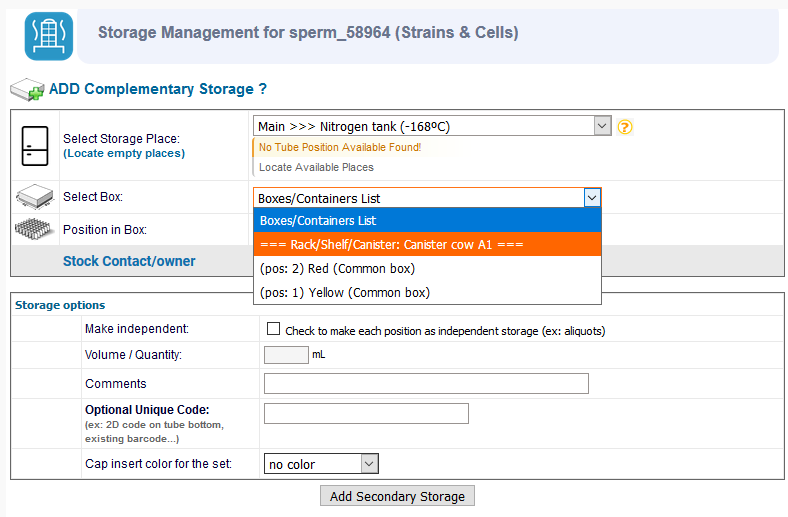 Once you find it, click on the box grid icon.



A new popup opens to manage your straws. The first column allows you to choose the color that you create on step B, then you can enter your own reference or comment. A function to repeat the same information x times can be useful – be careful of the total number of straws allowed when you use this function.
Don't forget to click on "Save Straws" and close the window.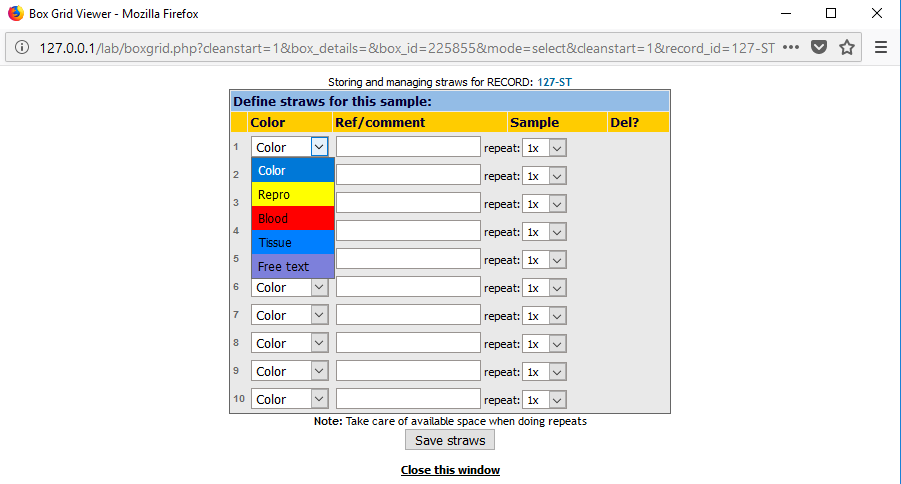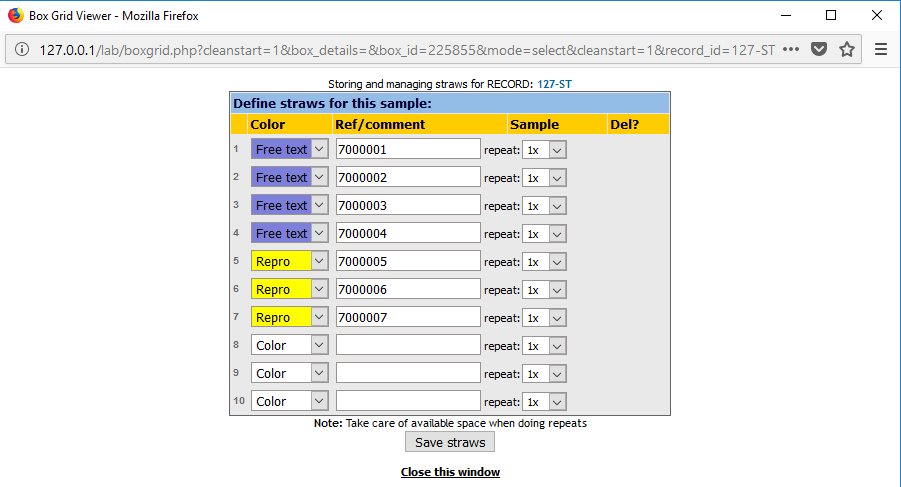 Validate by clicking on "Add secondary storage" in the storage form.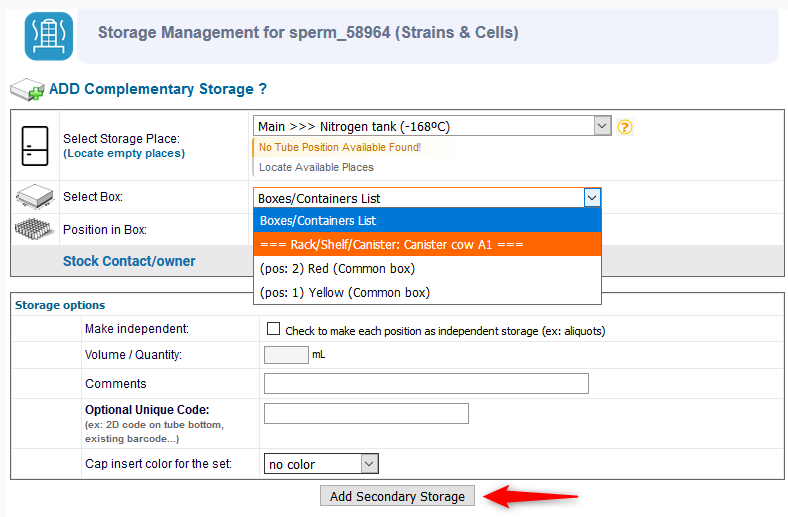 So now, on storage location of the record, you have a quick view of the straws. If you hover with your mouse on the straw, the whole list appears and you can click on

to remove one or multiple straws.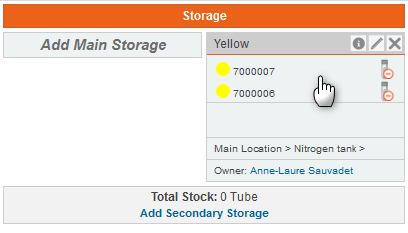 If you click on the fridge icon on the left, you can see the whole list.



And from the storage browser,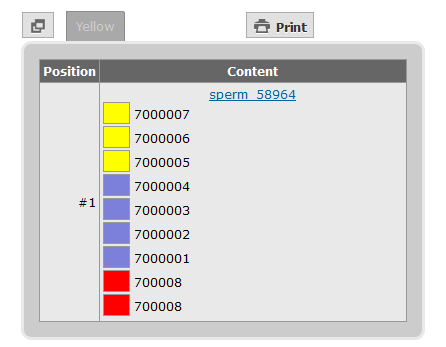 ---
---
Suivez ces quelques étapes pour créer et gérer votre stockage en bonbone d'azote sous forme de paillette.
A/ Création des niveaux supérieur de stockage
Créer le premier niveau sous Admin > Stockage> Gestion du stockage > Emplacements
Créer l'équipement de stockage sous Admin > Stockage> Gestion du stockage > Équipement de Stockage
Remplir le formulaire. Sous Equipment Type, sélectionner Azote liquide avec canisters (paillettes)
Pour suivre strictement votre stockage de paillettes, renseigner "Nombre de canisters" et "Positions par canisters " ou laisser vide.

B/ Option de couleur
Sous Admin > Stockage> Gestion du stockage > Options

Les couleurs peuvent être ajoutées en tapant leur code html ou  à l'aide de la palette en cliquant sur le carré blanc (voir ci-dessus) puis en sélectionnant la couleur avec la souris.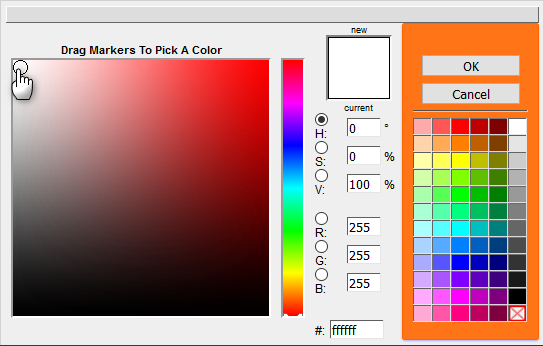 C/ Création des visotubes pour les paillettes
Choisir l'équipement de stockage dans le navigateur de stockage sous le menu Outils.
Cliquer sur "Ajouter tiroir + boîte". Le même formulaire peut être utilisé pour créer à la fois la boîte, ici un visotube, et un nouveau tiroir, ici un canister.
Indiquer un nom, pour les visotubes nom + couleur, et une description si besoin.
Choisir le type de boîte : "Visotube pour paillettes" et renseigner le nombre total de paillettes autorisées.
Canister : Sélectionner "Add in new rack" et définir son nom, ou un canister existant.
Définir une position dans le gobelet.
Vous pouvez cette boîte comme modèle puis sauvez.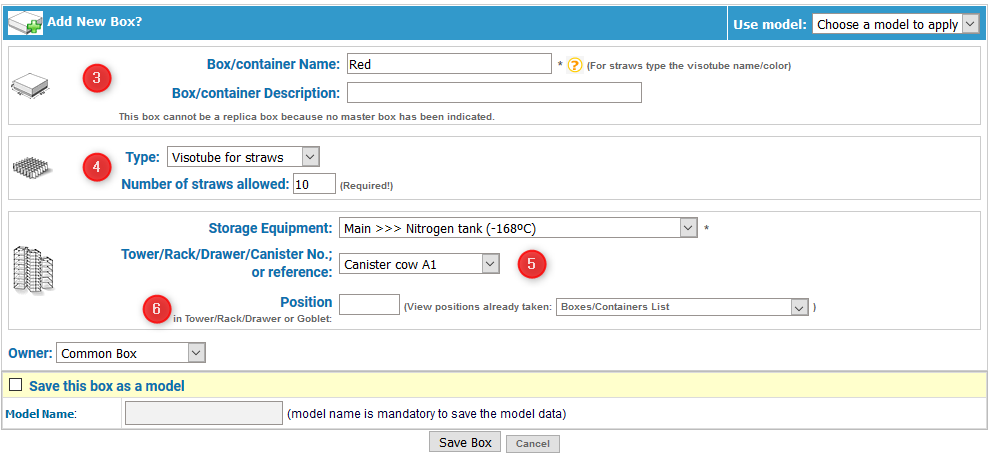 D/ Ajouter les paillettes dans un visotube
Depuis la fiche de l'échantillon à stocker, cliquer sur on "Ajouter un stockage secondaire" sur la droite.
Un formulaire s'ouvre et permet de choisir l'emplacement de stockage.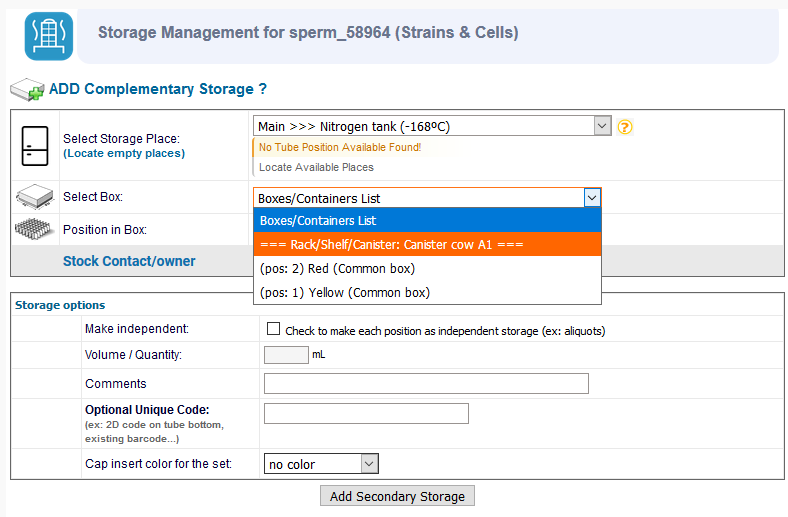 Une fois choisi, cliquer sur l'icône de grille.



Une nouvelle fenêtre s'ouvre pour gérer vos paillettes dans le détail. La première colonne permet de choisir la couleur ajoutée à l'étape B, vous pouvez ensuite entrer vos propres références ou commentaire. Une fonction pour répéter x fois la même information peut être utilisée, faites attention au nombre total de paillettes lorsque vous utilisez cette fonction.
Cliquer sur "Save Straws" et fermer cette fenêtre.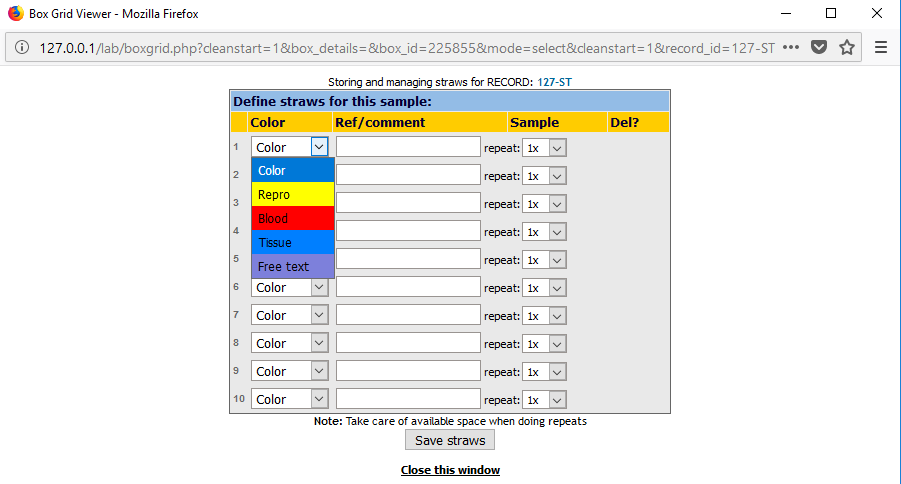 Valider ce stockage en cliquant sur "Add secondary storage" depuis le formulaire de stockage.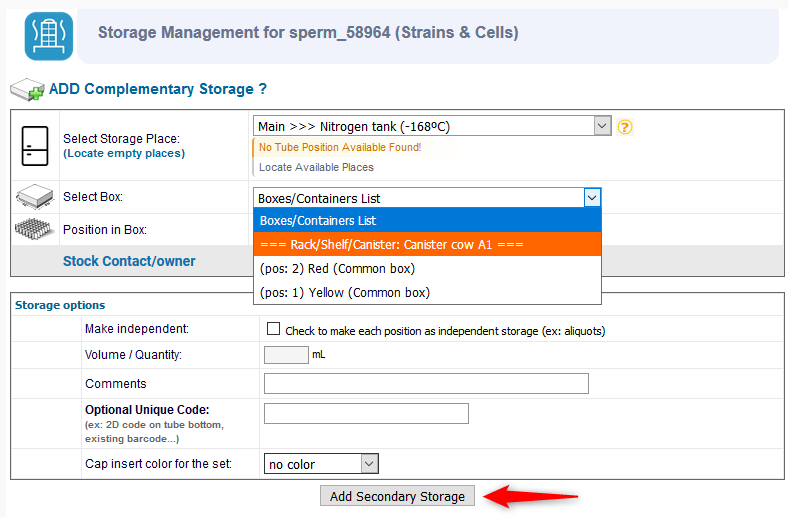 Depuis le stockage de la fiche, vous avez maintenant un accès rapide aux paillettes. En survolant cette zone avec la souris, la liste entière apparait et vous pouvez supprimer une ou plusieurs paillettes en cliquant sur

.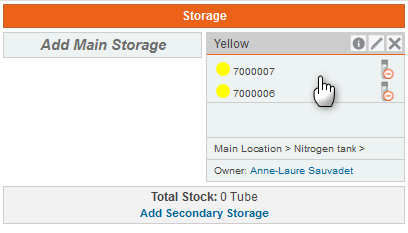 En cliquant sur le frigo dans les icônes de gauche, vous aurez accès à la liste détaillées des paillettes.



Depuis le navigateur de stockage également.