Search Knowledge Base by Keyword
How to use the Plate Normalization Tool in Tube Sorter add-on?

The Tube Sorter add-on within LabCollector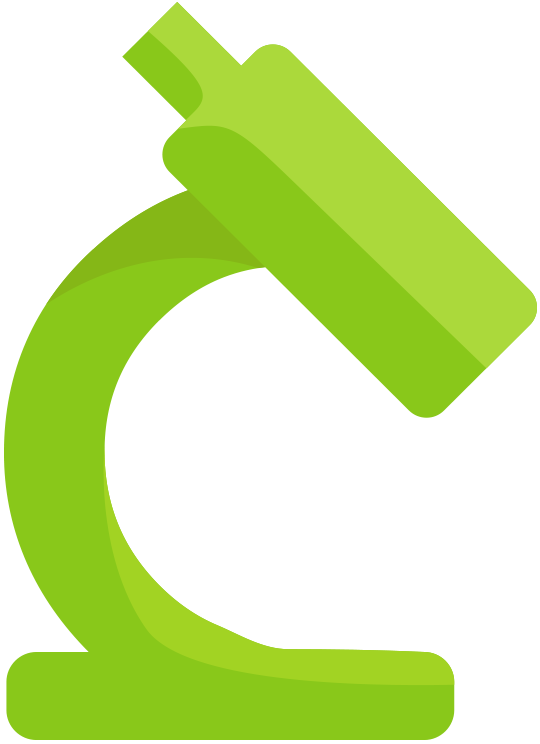 is a versatile tool that offers a variety of features to streamline your laboratory workflow. With this powerful add-on, you can easily create fluidigm biomark files, allowing you to quickly and efficiently process large amounts of data. Additionally, the plate merging feature allows you to combine multiple plates into one, making it easier to manage and organize your samples. The add-on also includes a feature for generating sample manifest files, which provides a detailed overview of the samples used in experiments. There is also the 96 to 384 plate mapping feature, which enables you to easily transition and create different plate formats, while the remove volume from samples feature allows you to adjust the volume of your samples with precision. Furthermore, the plate pooling feature allows you to combine samples from multiple plates into a single pooled sample, saving time and resources. With the Tube Sorter add-on, you can easily and efficiently manage your samples, making it an essential tool for any laboratory.
All of this is designed with a user-friendly and intuitive interface, and a clear layout that makes it easy to navigate.
In the following Knowledge Base, we will show you what is the normalization tool and how you can utilize it. In short, this powerful tool is designed to assist researchers in normalizing the concentrations and volumes of samples in their laboratory workflows.
1. What is Plate Normalization Tool and how to use it?
2. Benefits of using the normalization tool
3. Example of use cases

1. What is Plate Normalization Tool and how to use it?
Plate normalization is a process of adjusting the concentration of samples within a plate to a specific target concentration. This can be done by either adding or removing liquid from the samples, or by diluting the samples with a buffer. This step is often crucial for downstream applications such as PCR, ELISA, and NGS, where consistent sample concentrations are necessary for accurate and reliable results.
The revamped normalization tool within the Tube sorter add-on allows users to easily normalize the concentrations and volumes of their samples. To use this tool, simply go to the Tube Sorter add-on , then click on and select Normalization within the list, or simply click on the corresponding tab as shown in the screenshot below: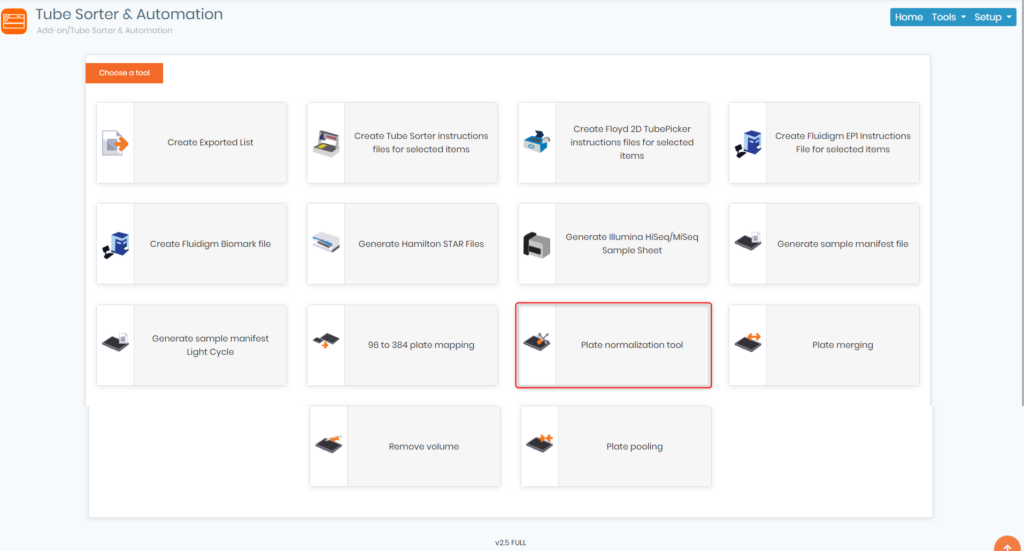 Once done, you will be redirected to the following page:

Here you can select the box/plate from which you want to retrieve the list of existing samples, by inputting its name or simply by scanning its barcode. Once you have chosen your plate/box, click on , a new page will appear (as shown in the screenshot below).
1:

Here you will see a list

of all the samples within your box/plate, alongside their corresponding details, such as their ID number, the tube code, name, position, volume, plus which rack/tray they were found at. You also have the option to visualize the box map, by clicking on the following icon

 

(located to the right of the table).
Tips/Hints
You can click on

located in the first column to deselect/select all samples within the box/plate.
2: 

Here you can see the number of tubes that were found inside the box/plate, the ones that weren't found, plus available ones, and the total number of tubes.

5: 

Here you should input the target concentration you want your samples to attain, you can also choose amongst 3 different concentration units (ng/ul, nM, nmol/L).

6: 

Select you target volume or the sample volume you want to transfer (ml, ul).

7: 

You have the option to cap your samples to the selected target volume + minimum volume.

8: 

You can select the exact target field in which you want to input the new concentration.

1: You can see the exact number of samples that need to be updated according to the options you have selected earlier, plus the ones that need to be removed. You can also choose whether or not you want to remove insufficient tubes. Once you finish, hit "Update current plate".
2: Here you can input a new plate name, storage location, drawer, and position in drawer. You can also "update the current plate and create a secondary one with target volumes".
3: You have the option to export your plate as a CSV file or as a Lynx file.

4: 

Here you have a summary table with a list of all samples, alongside all their necessary details, such as the initial sample concentration/volume, target concentration/volume, …etc.

2. Benefits of using the normalization tool
Consistent sample concentrations: By normalizing the concentrations of samples within a plate, researchers can ensure that they are working with consistent and reliable samples, which is crucial for downstream applications.
Time-saving: The normalization tool automates the process of adjusting sample concentrations, saving researchers valuable time and effort.
Improved accuracy: By normalizing samples, researchers can improve the accuracy of their results and reduce the risk of experimental error.

3. Examples of use cases
PCR: The normalization tool can be used to ensure that all samples in a PCR plate have the same concentration of DNA, which is necessary for accurate and reliable results.
ELISA: The tool can be used to adjust the concentrations of samples in an ELISA plate, ensuring that all samples are within the linear range of the assay.
NGS: The version 2.5 of Tube Sorter add-on includes a Lynx exporter making it ideal for NGS workflows.
In conclusion, The normalization tool is essential for researchers that are looking to improve the consistency and reliability of their laboratory workflows. With its user-friendly interface and powerful features, this tool is designed to make the normalization process fast, easy, and accurate. It also can be used in various applications such as PCR, ELISA, and NGS, plus with the new Lynx exporter it's even more suited for NGS workflows.

Related topics: