How do I create alerts for chemical and equipment?
Go to Admin > Preferences > Alerts and change the settings as required.
Reagents and Supplies alerts: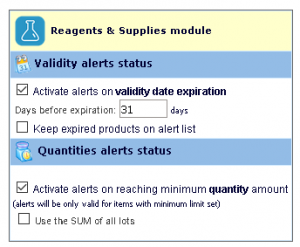 1. You can use the validity alert for reagents. You must define the number of days before the expiry date of the product to use as a threshold. There is also an option to keep expired products on the alert list.
2. For quantity alerts, you can choose to check the box "Use the SUM of all lots". In this case, when the total quantity of the stock is below the product threshold, an alert will be activated. Otherwise, any batch whose quantity is below the threshold will trigger the alert.
NOTE: This threshold must be defined to create alerts
3. When finished click on "Update Alert Options".
Equipment Maintenance alerts: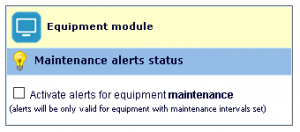 1. If you want to use this alert function, you have to define the maintenance frequency through Admin > Preferences > Equipment Categories.
See this KB
2. An alert based on the waiting time for delivery after ordering can be activated. You must define the number of days required for an alert.