LabCollector LIMS for Chemistry
R&D labs in chemistry manage numerous chemical structures each day requiring an efficient organizational system. An internal searchable library of your chemical inventory is essential.

LabCollector lets you search and filter by chemical structure in combination with other types of searches.  Linking of chemicals based on in-house use such as in your Electronic Lab Notebook further enhances searches and traceability.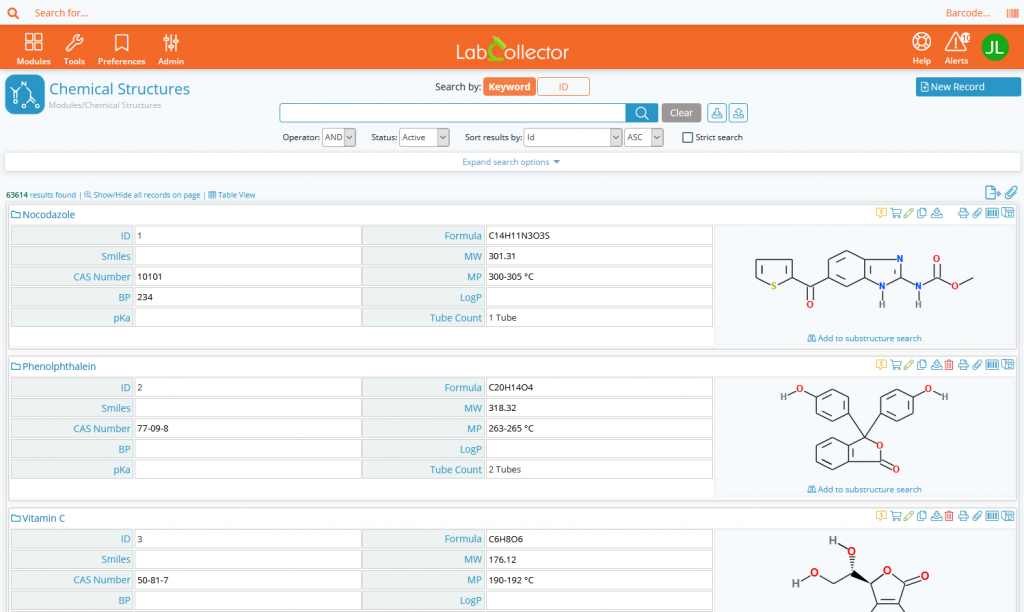 Ensure Quality & Efficiency
Unlike other LIMS, LabCollector manages chemicals but it also:
Manages Equipment
Manages Data
Manages Documents
Easily Configurable by Lab Staff
Handles all information in the lab as well as relationships between these records
LabCollector LIMS gives your lab powerful tools to setup an easy to use solution to manage your lab in a single database:
Tools For Chemical Data:
Import chemical structures (MOL, CDX, SD formats)
Unique ID for each data entry
Add spectrum data in JDX format – NMR, IR, MS etc.
PDB structures support
Molecule and reaction designer
Substructure search (optional)
Locate your samples in the lab
Chemical reactions designer in our ELN
Tools to organize your Lab:
Customize the database modules, fields and search filters
Full bacode support for quick identification and label printing
Mass import and updates
Manage lab inventory
Easily combines and links to other parts of LabCollector to search and catalog based on protocols, patents, experimental data and more
Complex search & filter of in house information facilitates rapidly transitioning from finding information to doing experiments
Electronic Notebook for chemistry:
Use all the features described above and add an R&D notebook
Control user access for viewing, editing, and signing
Link to exact chemicals from your inventory
Create and use templates for reactions
Key benefits:
Speed up your research and optimize your organization
Facilitate storage management, inventory and data retrieval
Enhance data traceability and improve the quality management system of your R&D activities