PRAESENS CARE
Presentation
Praesens Care is a sister entity of the Praesens Foundation whose main missions are to drive global health technology innovation, make a social impact and turn innovative ideas into real-world solutions. Praesens Care is an innovative healthcare service delivery platform. Started during the Ebola outbreak in 2014-2016 as a solution to rapid, accurate, and easy-to-use diagnostics, it uses robust, go-anywhere vehicles integrated with all the necessary lab equipment and consumables. Praesens Care provides broad healthcare support across the patient's journey both for routine services (including awareness/prevention campaigns, diagnostics, treatment, and follow-up programs) as well as emergency preparedness and response.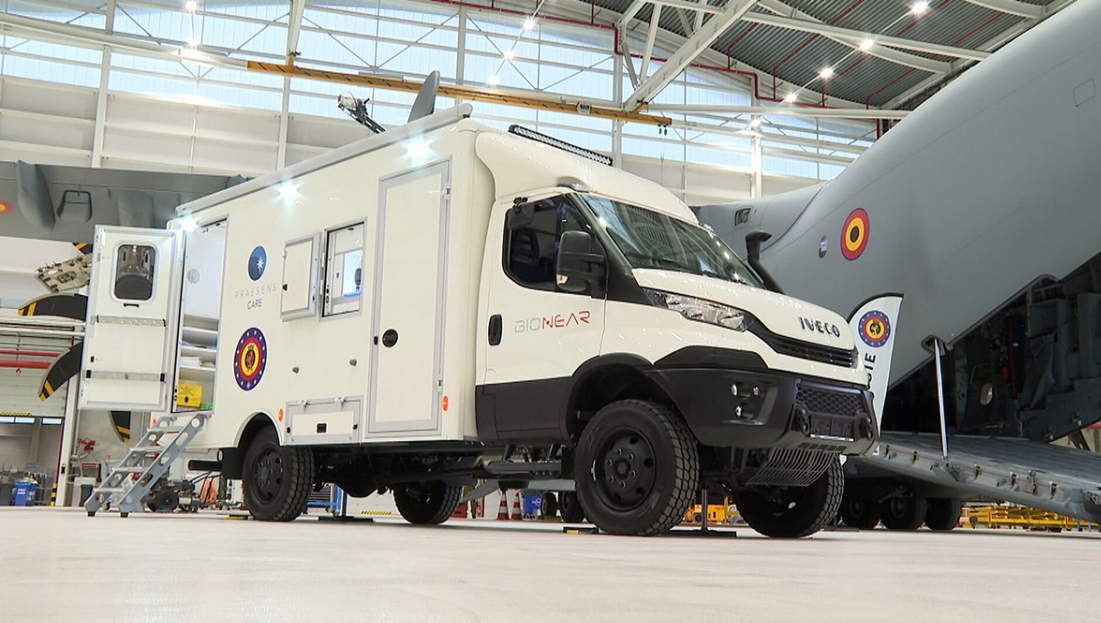 Praesens Care has created a mobile vehicle called "BIONEAR®" , essentially a truck containing a mobile diagnostic, testing, and fully functioning laboratory on-board, built with the idea to offer a wide scope of medical testing services with the necessary high-quality laboratory equipment. The BIONEAR's® standardized, autonomous and pre-configured set of hardware and software reduces the building time of the BIONEAR® vehicle, eases its field implementation and facilitates the deployment in remote areas by plane.
Need for a LIMS to manage BIONEAR® medical tests
Praesens was looking for a complete Laboratory Information Management Software (LIMS) that would manage the laboratory operations of the BIONEAR® as a whole, including running tests, automated data entry from instruments in the trucks, as well as integrated and easy creation of certificates of analysis. Since BIONEAR® laboratories are fully mobile in the field where both a satellite and cellular internet connection are limited, the challenge was to deploy the LIMS in the Cloud with a functional, secure and stable connection to the instruments located inside the BIONEAR® trucks.
"Our criteria of LIMS for BioNEAR has a modular approach; addresses most laboratory needs (such as storage, equipment, reagents, etc.); has the ability to host data on a cloud; Application Programming Interface (API) feature and complies with the ISO15189 certification" says Emmanuel Vidal, CEO of Praesens Care.
Selecting LabCollector LIMS for BIONEAR®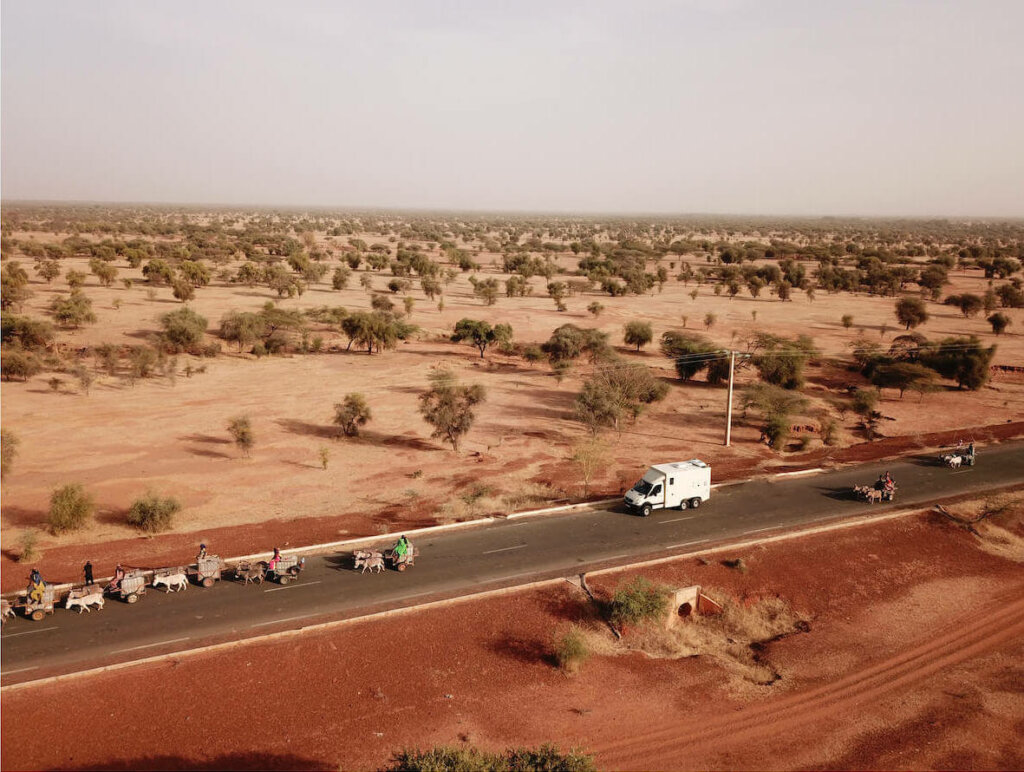 LabCollector is a fully featured Laboratory Information Management Software (LIMS). It is built on modules of data to store any kind of information and on a software stack of 20 Add-ons dedicated to specific laboratory applications. One of them, the LSM Add-on, is dedicated to analytical and medical laboratories fully covering the daily management of tests planning, execution and result entry. After a careful market study, Praesens Care has chosen LabCollector LIMS with the LSM add-on to manage all the tests performed on its BIONEAR®. LabCollector matches the list of requirements expressed by Praesens Care for a simple to configure, easy to use medical testing LIMS, fully functional in a mobile medical laboratory environment, supporting ISO 17025 and 21CFR Part 11 regulation by default and that can be connected to different instruments for full automation of result entry. Recommendations from other laboratories have also played a role in Praesens' choice to use LabCollector as its medical LIMS.
Quoting a partner saying "We appreciate LabCollector LIMS solution, especially their technical and technological solution, and highly recommend considering it as your solution." Emmanuel Vidal, CEO of Praesens Care, adds "It was important for us to have a LIMS, made in Europe."
Full automation of data entry
LabCollector can be connected to any kind of instrument sending test results in a digital format. In each BIONEAR® truck, several instruments are connected to LabCollector in the Cloud via a satellite connection to automatically send test results into the LSM Add-on without manual entry. This fully automated data entry greatly reduces the risk of error and guarantees an excellent accuracy of medical results and reports delivered to patients and physicians.
Connecting Instruments in mobile labs to LabCollector in the Cloud
To maintain a stable connection between LabCollector and the instruments located inside the BIONEAR®, AgileBio has developed a new product called I-Collector Hub. It is a small plug and play hardware that receives raw data from the local instruments, works as a local buffer storing data for one week maximum and sending measurements to LabCollector in the Cloud when the Internet connection is stable or simply re-established. This buffering function of I-Collector Hub is particularly important when the BIONEAR® is located in areas where the Satellite connection is sometimes unstable or unavailable for hours. Moreover I-Collector Hub configuration is directly downloaded from the Cloud via the satellite Internet connection of the BIONEAR® resulting in near zero configuration and maintenance for the users. In the mobile context of BIONEAR®, I-Collector Hub guarantees that all data of each instrument for all analyses are securely sent to LabCollector LIMS in the Cloud without any loss.
Connectivity and modularity of LabCollector LIMS
It was very important for Praesens Care that LabCollector be able to be connected to any other software via its Application Programming Interface (API) to retrieve results or send test requests. Therefore, the reporting capabilities of LabCollector via its API is an essential tool in creating country scale medical statistics using results which come directly from BIONEARs® trucks on the ground at the forefront of a pandemic.
"The biggest advantages of LabCollector for us are API, flexibility and its modular approach" says Herwig van Mark, CIO at Praesens Care.
LabCollector implementation and result for Praesens
Implementation and connection of instruments of LabCollector in the BIONEAR® has taken only a few months, thanks to tight collaboration between AgileBio and Praesens Care teams to build a fully integrated ready to use hardware – software mobile medical laboratory solution like the BIONEAR® . With the constant support delivered by the AgileBio team during the implementation phase of LabCollector in the pilot truck and the continuous and reactive follow-up to adapt LabCollector to the BIONEAR® constraints, Praesens Care is clearly at the forefront of innovation by bringing one of the first mobile and autonomous medical laboratory solutions to the market.
"LabCollector gives us the freedom to keep consistency and coherence between BIONEARs®. Linking instruments to I-Collector is easy, comfortable, and secure. Elimination of human error, time saving, logging, and monitoring data over time not only gives a proper quality management system but also increases the quality of BIONEAR's® value proposition which is drastically important for this type of project. LabCollector helps us work more efficiently." says Emmanuel Vidal, CEO of Praesens Care.