Weight Tracker
This powerful tool enables precise weight monitoring, making it easier to track your sample and reagent quantities. The Weight Tracker Add-On facilitate lab processes, optimizes inventory management, and enhances your research experience. Let's explore the benefits and features that make the Weight Tracker a must-have for all LabCollector users.
Knowledge base: How to use it ?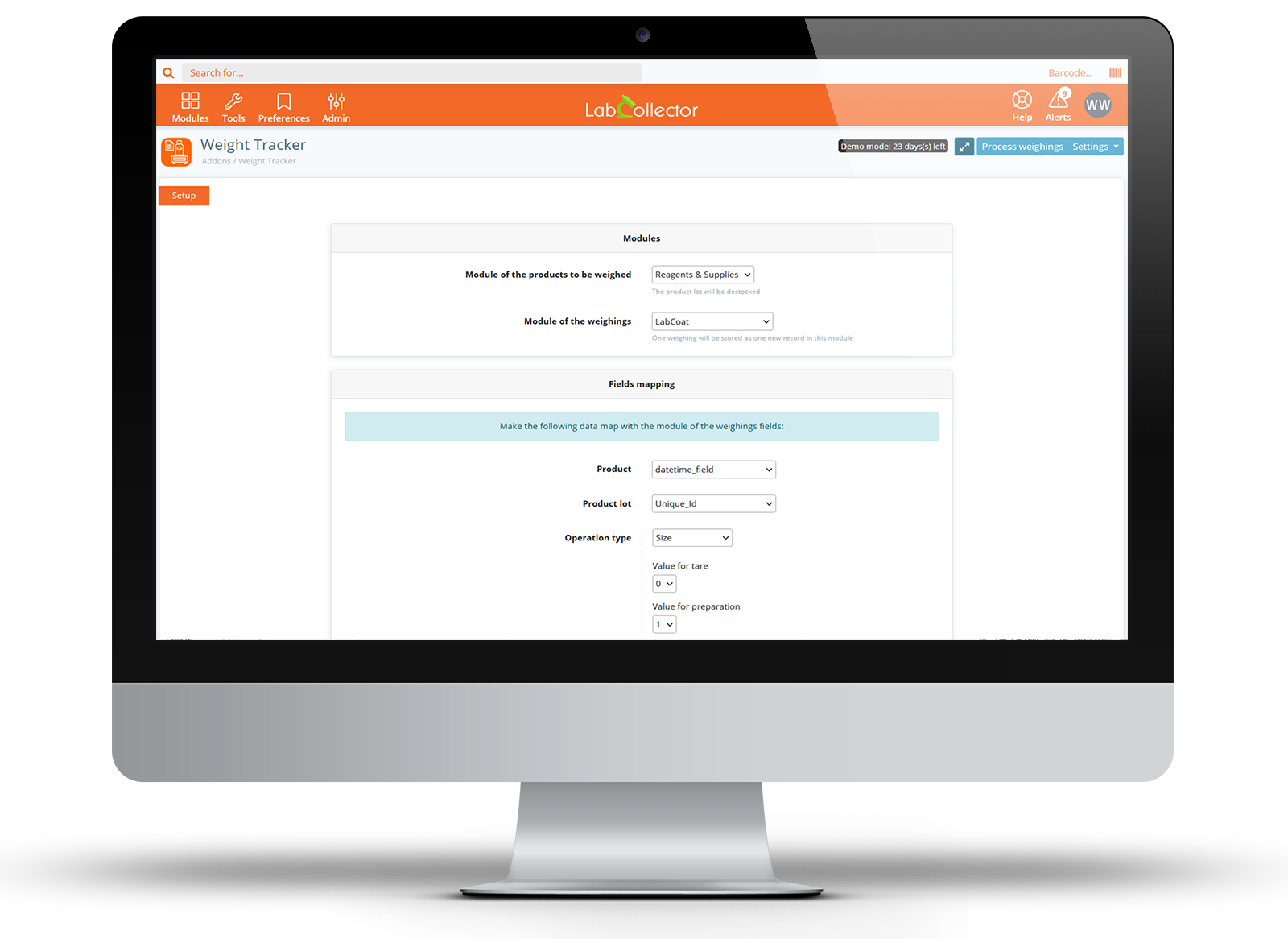 Benefits of using the Weight Tracker Add-On:
Real-time Quantity Monitoring
Stay updated on your sample or reagent levels with accurate real-time tracking. The Weight Tracker Add-On provides instant updates on the remaining quantity after each withdrawal, ensuring you never run out unexpectedly.
Effortless Configuration
Set up the Weight Tracker with a few clicks. Access "Settings" and navigate to "Setup" to choose the module for weight monitoring and select the corresponding fields, such as "Tare = Weight of Empty Container," previous mass, variation, remaining quantity, and more.
Seamless Weighing Process
Initiate the weighing process effortlessly. Scan the barcode or manually enter the lot number, and you're ready to start monitoring. The Weight Tracker Add-On maintains a complete history of all weighings, providing a clear overview of your sample usage.
Customizable Steps
This add-on caters to your unique workflows. If no measurements were performed, you can manually enter the "tare" value and proceed with the subsequent steps. The add-on provides step-by-step guidance for a user-friendly experience.
Automated Inventory Updates
It also automatically updates your inventory records as you perform weighings and measurements. The quantities will be adjusted in the "Reagents & Supplies" module, saving time and reducing errors.
Enhanced User Interface
The add-on features an intuitive design and step-by-step explanations for a smooth and efficient weighing process for users of all experience levels. The Weight Tracker add-on is a valuable extension of LabCollector, catering to research laboratories, scientific institutions, and industries handling sample or reagent quantities. By providing an accurate and efficient system for weight tracking, it contributes significantly to the smooth functioning of your lab.