LabCollector is a sponsor of this event
AgileBio/LabCollector will be present at Illkirch, Tuesday 20th September for the ACCITH – Forum 2011.
You are welcome to meet Mr Laurent PERRIER and discover LabCollector features on site.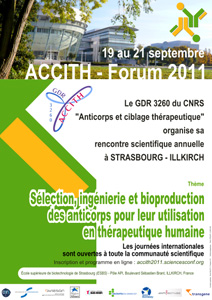 The GDR holds annual scientific meetings for its members, and welcomes the participation of members of the scientific community. This year, the CNRS research unit « Immunology and therapeutic chemistry » (UPR 9021), the joint CNRS – University unit « Biotechnology and cell signalling » (UMR 7242) and Transgene S.A., all GDR-member teams located in Alsace, organize the 2011 ACCITH Forum which will take place on September 19-21, 2011 at the Innovation Center (Pôle API) in Illkirch, near Strasbourg.
The conference will focus on the
selection, engineering, preclinical assessment and
bioproduction
of antibodies used for human therapeutics
,  and will bring together scientists from the German, Swiss and French Upper Rhine valley area.
a a a a a a a a a a a a a a a a a a a a a a a a a a a a a a a a a a a a a a a a a a a a a a a a a a a a a a a a a a a a a a a a a a a a a a a a a a a a a a a a a a a a a a a a a a a a a a a a a a a a a a a a a a a a a a a a a a a a a a a a a a a a a a a a a a a a a a a a a a a a a a a a a a a a a a a a a a a a a a a a a a a a a a a a a a a a a a a a a a a a a a a a a a a a a a a a a a a