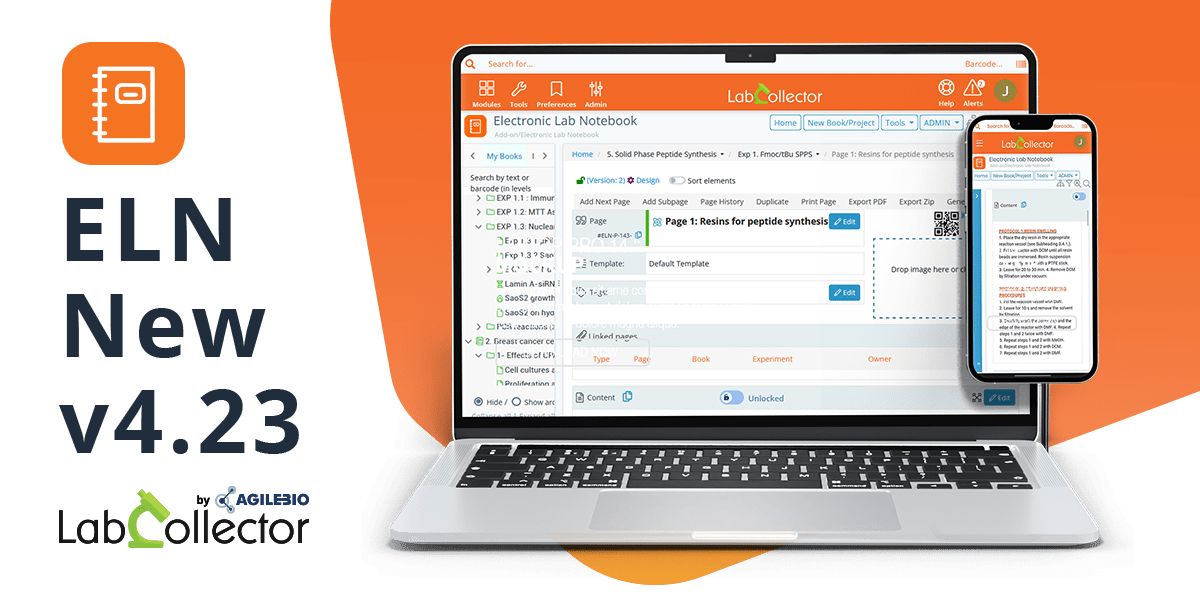 New version ELN v4.23 with many new features!
The new version of ELN is here! Discover now the version 4.23 with many new features: Voice recording block, block expansion feature, link between a recipe and a page AND with that, the new version of ELNDocSend App v3.0!
Talk to your ELN

Add and record voice notes directly into your ELN:

Record the audio with your microphone
Listen to it again
Download the audio file

A new feature allows you to expand a content or spreadsheet block into a larger view.
Other improvements for ELN v4.23
NEW: Block to record vocal notes
NEW: Block to add linked pages
NEW: Link recipes to a page
NEW: Block extension function, allowing to edit blocks such as textual content or a flat spreadsheet in a larger view
NEW: New "Migrate" button to transfer all the data from the old flat spreadsheet (legacy) to the new one (spreadsheet v2)
NEW: New scannable barcode to select a book/exp/page with the ELNDocSend application
NEW: Add spreadsheet type selector
NEW: New page component Microplate
NEW: Link tag to a project and add a mandatory tag on the project
NEW: Add tag to book by selecting a project
NEW: Save a page block for reuse
NEW: Generate a template from a page
NEW: Notifications drop-down menu to see all changes made
NEW: Security of the signature to avoid any modification of the database
NEW: Button archive/unarchive on the book homepage
IMPROVED: Add search tags by group in tag manager
IMPROVED: With advanced permissions, only PIs can sign pages of all members of their groups without explicit permissions in books
IMPROVED: Copy/paste image from one page to another create a complete URL
IMPROVED: PhotoeditorSDK updated
NEW
ELNDocSend Mobile App v3.0
­
ELNDocSend App allows you to send your paper annotations, notebook pages or other photos directly to LabCollector Electronic Lab Notebook in a few clicks!