Paris, France & San Diego, CA (May 31, 2016) – In today's laboratories the amount of collaborations and information to keep track of seem to be rapidly growing for both academic and industrial scientists.   AgileBio developed LabCollector to meet the needs of managing and sharing the vast amounts of data generated in labs and make sure that information gets shared with the right people at the right time.  To meet these needs AgileBio announces a new version of LabCollector Electronic Lab Notebook v3.6.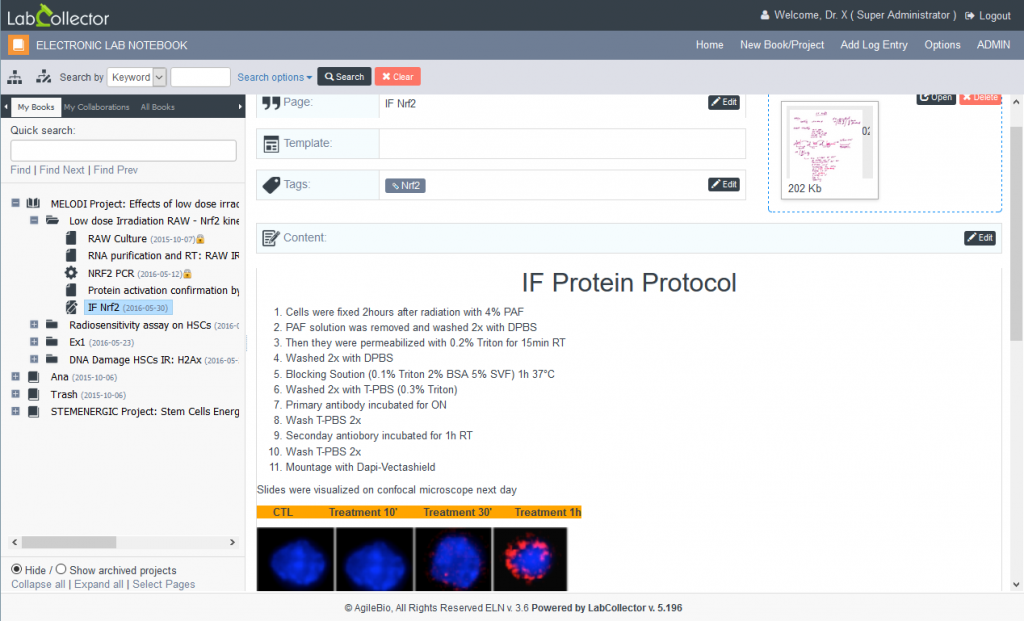 This new version of ELN (v3.6) includes many new features. A new text editor now includes a built-in image editor. Image editing and annotating have been long neglected by ELNs, although image capturing from a range of applications and quick annotations is a routine lab activity.  A new HTML5 spreadsheet is available to facilitate all your calculations inside the ELN.  The design is made for full functionality with all devices including tablets, iPads and mobile phones.
For more privacy a login time out has been created: when leaving your ELN session open without action the page becomes blurred and an authentication is needed to access where you stopped working with all edits in place.  James Morris, a LabCollector consultant calls this "A simple and elegant solution for maintaining security and privacy in the lab that does not disrupt work.  It's perfect for when you are suddenly called away from the lab." 
Backups are now automatically created within the text editor.  Forgetting to save a page will no longer create a loss of information.  The intermediate versions are saved to allow continuation of work from any version.  All versions remain traceable to avoid loss of information
General performance and usability improvements have been made.  In this version, you will also find all the functions that are the strength of the AgileBio ELN:
Page templates now allow mandatory fields
Create and apply experiment workflows
Diagram designer tool includes new icons
Integrated HTLM 5 spreadsheet
Historic data/audit trail
Author and witness page validation/closing and signing
About AgileBio
AgileBio is a leader in providing collaborative tools that enhance research productivity and traceability to scientist teams in industry and academia.  Our mission is to develop flexible and innovative software, such as our main product, LabCollector, and thus, turn research teams into more agile structures. Our goal is to unlock the full potential of each lab and help scientists pursue ambitious goals.  LabCollector is a unique Intranet based software, allowing centralized management of all your lab data. By using LabCollector, your teams can benefit from efficient information sharing and access.  AgileBio also builds and implements customized and packaged IT solutions that meet the demand of highly competitive companies and labs. Our clients turn to us time and time again because they trust us to get things right from the start.  AgileBio is focused on Open Source technologies! We are experts in Perl, PHP, mySQL and Linux. We work with and frequently recommend a mix of Windows and MacOS worlds. This makes original and powerful client/server solutions for the biosciences labs.
To keep up to date with the latest news from AgileBio, sign up for our newsletter at labcollector.com/contact/  Media inquiries may be directed to [email protected]