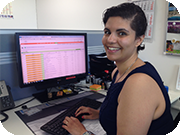 I like that LabCollector is a very useful and complete database system and it allows me to track all my orders. We can keep track of all of our documents and administrative information. It is a big and useful database.
Since my arrival at LCSB we have used the LabCollector LIMS. The more features we use, the more I find its functions and tools useful.
The LabCollector team is also always listening to our suggestions. They do all that is possible to exceed our expectations.
I am therefore very satisfied and I would definitely recommend LabCollector LIMS to other users.