We are pleased to announce that the new version
of LabCollector v6.01 is now available.
We launched labcollector v6.0 a few months ago. And despite everything, we have continued to work with you and for you to improve this version.
Here is the new version 6.01, a more stable version with new features!
Discover now the improvements and new features of LabCollector v6.01:
Resolution of detected bugs
Enhanced security and LDAP/AD import
Better advanced search options
More compliancy with detailed Audit trail logs
Easy import for files with special characters
More options for barcode printing, new PDF barcode printing system
New options for the concatenation field: select and date field are now possible
Before upgrading from older LabCollector please ensure that:
You have a recent backup of your data.
Your server has the latest ionCube. Also, PHP7.x is now preferred.
You have a valid Support & Upgrades package! Otherwise, you may not be entitled to a new v6.0 license.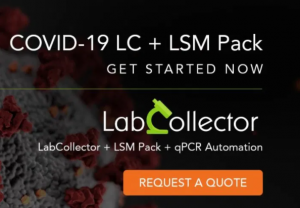 LabCollector is committed to the fight against COVID-19
LabCollector is offering research and testing labs a combo pack to test the virus and help eradicate the pandemic.
LabCollector Pack : LC + LSM + qPCR Automation