Paris, France & San Diego, CA (21 November 2016) – AgileBio, a leading global provider of collaborative tools that enhance research productivity and traceability to scientist teams in industry and academia and Mind The graph, the leader of creative life sciences infographics, today announced a technology partnership and integration.
The partnership provides a new scientific communication plugin for the LabCollector Electronic Lab Notebook.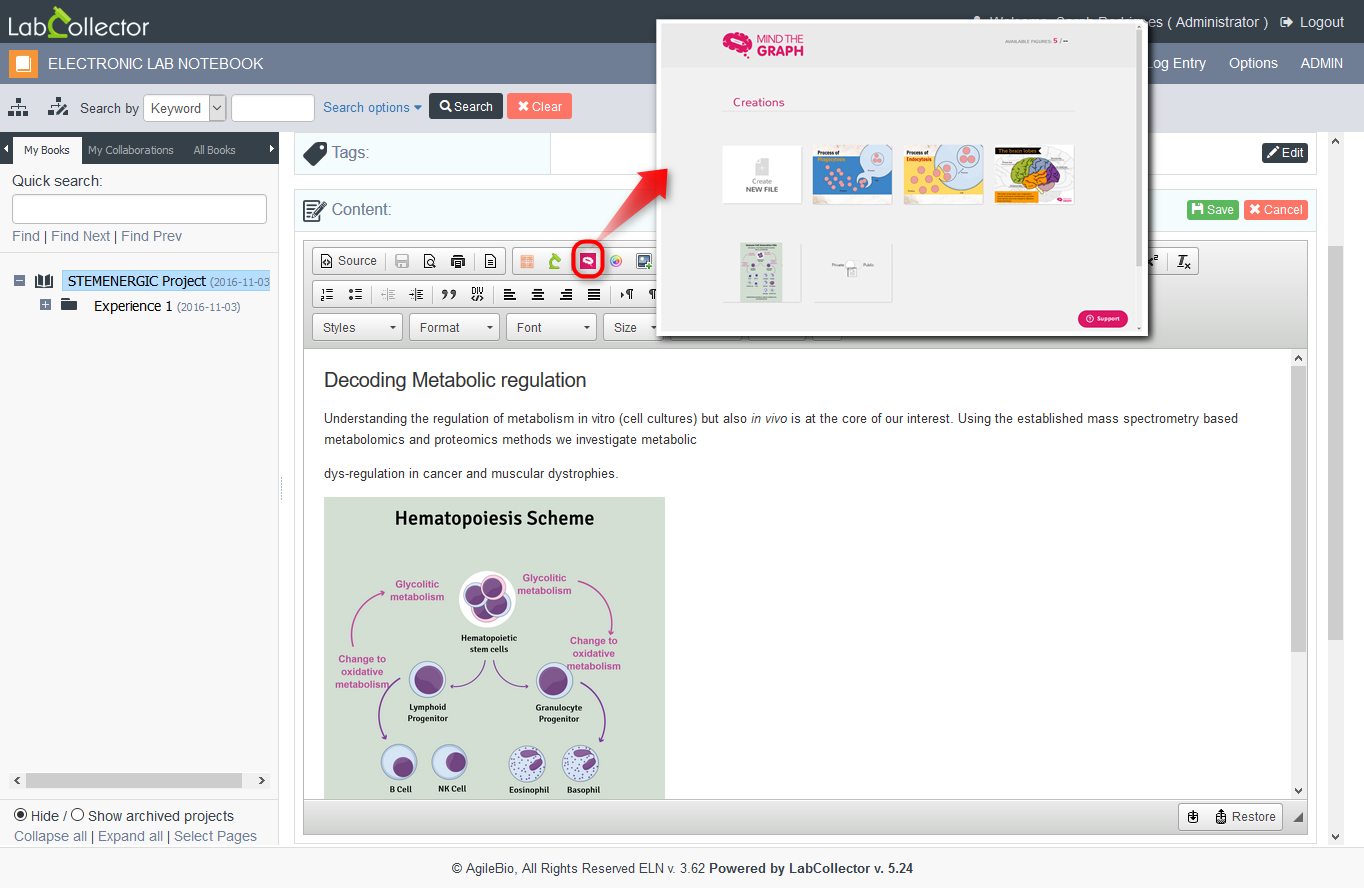 Electronic Lab Notebook (ELN), for those who are familiar, allows researchers to document, share and search experiments. In this way, lab heads can manage and follow more efficiently the current projects in the lab, which are accessible online and shared among colleagues. Not only can they annotate their experiments, but also build a collaborative network of shared resources (sharing experiments, protocols, reagents & supplies, cell lines, primers etc..) and linking their samples, reagents, cell lines, primers and many others into their experimental context.
As decisions taken are based on lab information, having a reliable system to serve as your lab information repository can enable you to make better and faster decisions. Together with the Mind the Graph infographics, LabCollector ELN users can deliver powerful visual messages to their collaborators about their experiments and its impact.
Mind the Graph is an online platform that helps you create professional quality images, with incredible illustrations made by scientists for scientists. Mind the Graph infographics allows researchers to deliver powerful messages in posters, articles, presentations and now in LabCollector ELN creating more visibility of their research. Mind the Graph has exclusive high level scientific content with over 3.000 scientific illustrations and if you do not find what you are looking for you can easily make it yourself or ask for on demand services.
AgileBio and Mind the Graph believe that this partnership will bring powerful tools to scientists by enhancing collaborations and communication within the scientific community.
Pierre Rodrigues, the founder of AgileBio says, "Scientific collaboration is in the heart of LabCollector and Mind the Graph solutions. We believe that strengthening communication and collaboration in the lab with the LabCollector ELN is what science needs, the partnership with the Mind the Graph infographics will allow communication through powerful visual tools inside the lab and also beyond the lab, in your posters and presentations "
Fabricio Pamplona, founder of Mind the Graph says, "we are excited to launch this new integration with LabCollector, since it brings our platform to where it is needed. Our value proposal is to turn science more visual and less complicated. So far, our clients have used Mind the Graph to create graphical abstracts and presentations, but I truly believe that it can be useful at earlier research stages, from lab protocols and experiment schemes. Increasing comprehension of a lab protocol can save time and money, which is so scarce in our lives. That's why this partnership is so special."
About Mind the Graph
Mind the Graph is an infographic platform that allow students and professors to create attractive figures for their papers and classes. The platform combines an extensive library of scientific illustrations with an intuitive online interface. Use Mind the Graph and create powerful figures that increase visibility and comprehension of your science to a broader.
About AgileBio
AgileBio is a leader in providing collaborative tools that enhance research productivity and traceability to scientist teams in industry and academia.  AgileBio's mission is to develop flexible and innovative software, such as our main product, LabCollector, and thus, turn research teams into more agile structures. LabCollector is a unique Intranet based software, allowing centralized management of all your lab data. By using LabCollector, lab teams can benefit from efficient information sharing and access.  AgileBio also builds and implements customized and packaged IT solutions that meet the demand of highly competitive companies and labs. Our clients turn to us time and time again because they trust us to get things right from the start.

To keep up to date with the latest news from AgileBio, sign up for their newsletter at labcollector.com/ .  Media inquiries may be directed to [email protected]