Activate a test kit directly on LSMRemote


and discover the new version of ELN!

LabCollector launches new versions of its add-ons LSM and ELN! Many new features have been added to these add-ons to make their use even more complete and simple. Check out the new Kit Activation feature on the LSMRemote portal and much more!
LSMRemote | Kit Activation
LabCollector offers now the possibility to activate a kit directly on its portal LSMRemote. The patient can simply register and activate his kit by adding the requested information. He will then only have to drop it off at the desired collection point. Simple, fast and above all contactless!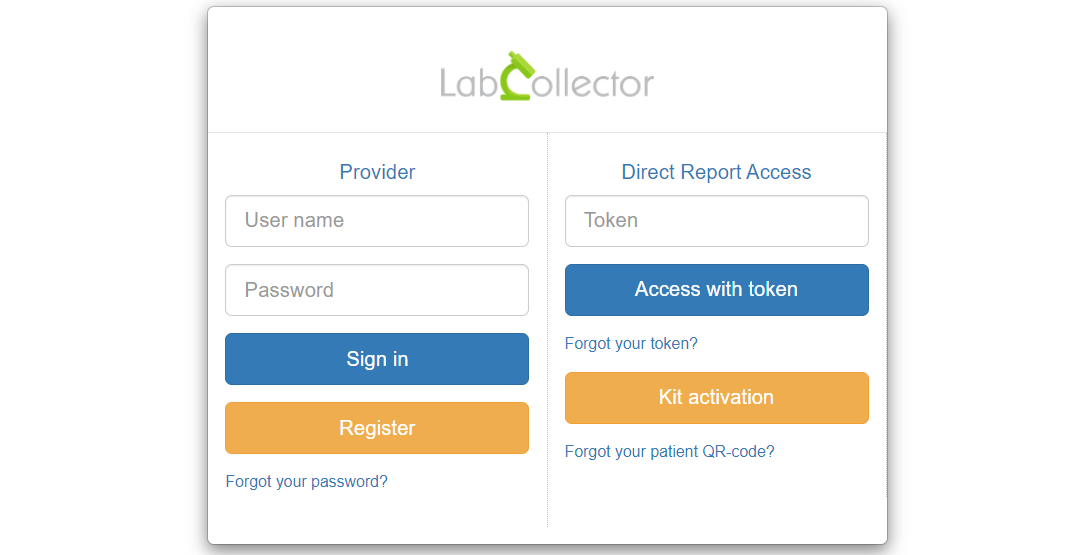 Others improvements:
LSMRemote Web Portal:
New section for Kit Activation

New option to create and edit a new record to an attached module through the portal

Enhanced search with Case Record field

New option in New Job to pre-filled some field of a case record if it already exists

More field types for Patient Registration form
Lab Service Manger v4.038x:
Improvements with integrated platforms(1Health, ORDRS)
New option to archive a requester and disabled linked users
New option to add and edit an attached module for the web portal
Possibility to extract PDF of a batch of jobs
New email template to send a client all his job reports in one PDF and one email
Export a PDF or ZIP file with all reports for batch jobs completed or finished
New report tag #matrix_catalog#
Enhanced visualization of case record in job view with a new button
New option to unarchived a job
Enhanced audit log search by date range
Enhanced layout in case record setup
License requesters/samples limit visible with a colored progress bar
Enhanced user interface
Enhanced API
Better filters for control charts
Electronic Lab Notebook v4.14:
New tree books filters by owner, creator, last editor
Enhanced ELN API to support getting and editing experiments associated files
New project and tag filters to Page Signing and Page Validation
Enhanced Page Validation/Signing loading by limiting to 200 results in preview list
Enhanced pages sorting with tree alphabetical and creation date sorts
Now separate tree sorts for books and experiments
Better installation of digital certificates for signature
Better functioning of FileConnector