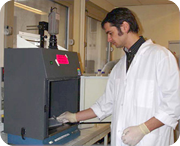 Our lab at EnvA collaborates with the Cani-DNA biobank. Our purpose is to gather, annotate, store and distribute biological samples from domestic dogs.
This data is useful to the health and wellness of dogs. It is also precious to investigators engaged in medical and translational R&D programs.
To achieve this project, we needed to consider a database that combined several advantages and addressed the challenge to maintain controlled costs of development and maintenance. For this we wrote a proposal request fto LabCollector with our very specific needs. We were aware that frequently there is a gap between dreamed conditions in a lab and software results. We also wanted a unique tool for identification, labeling, barcoding and storage in the freezers as well as a temperature monitoring system that would include alarms by SMS and emails.
Using these specifications, we gathered with the LabCollector team and brainstormed on how to implement it.
In order to limit our budget, it was obvious that we needed to confine as much as possible to the default and existing LabCollector modules and methods and try to adjust them into our workflow.
After some adjustments, we ended up with a custom module option and a paid development of the WorkFlow add-on to bring several innovations to it that would fit our needs. The LabCollector team even added several additional improvements in updates v5.12 and v5.14.
Inevitable bugs were detected but quickly resolved remotely by the LabCollector team (I would like to point out the great customer support from the team.) Today we are able to use LabCollector  at 90% of its potential!
We also manage all the barcodes (initial calibration was a little tricky, but again the LabCollector team showed themselves to be very supportive). We like the temperature monitoring system, which works perfectly with wired sensors and existing network plugs, avoiding repeating fails from wireless sensors from competitors.
We are very pleased so far and continuing…
LabCollector uses a MySQL database, which ensures easy export to any other system that could be needed in the future.
All this at a VERY attractive cost (less than $8,000!) including license, development, printing material, labels, scanners and temperature monitoring with alarms! There is not a better deal on the market!