Libro Electronico del Laboratorio (ELN)
| | |
| --- | --- |
| | Libro Electronico del Laboratorio |
Convierte tu plataforma LabCollector con el módulo ELN en una eficiente y super simple libro electrónico para almacenar y manejar toda la información de sus experimentos del laboratorio. ELN es un gran apoyo para complementar un típico libro de notas en papel. El modulo ELN puede funcionar como una solución hibrida (papel + electrónico) o como una totalmente sin papel en cualquier laboratorio.
Los beneficios de ELN incluyen un ambiente colaborativo combinado con un acceso seguro e inmediato para las personas autorizadas en su lab. Desde la documentación de experimentos sencillos de rutina hasta registros complejos, que incluyen flujos de trabajos y formatos por páginas, su laboratorio puede usar ELN para cubrir necesidades específicas a través de una personalización que siempre estará bajo su control.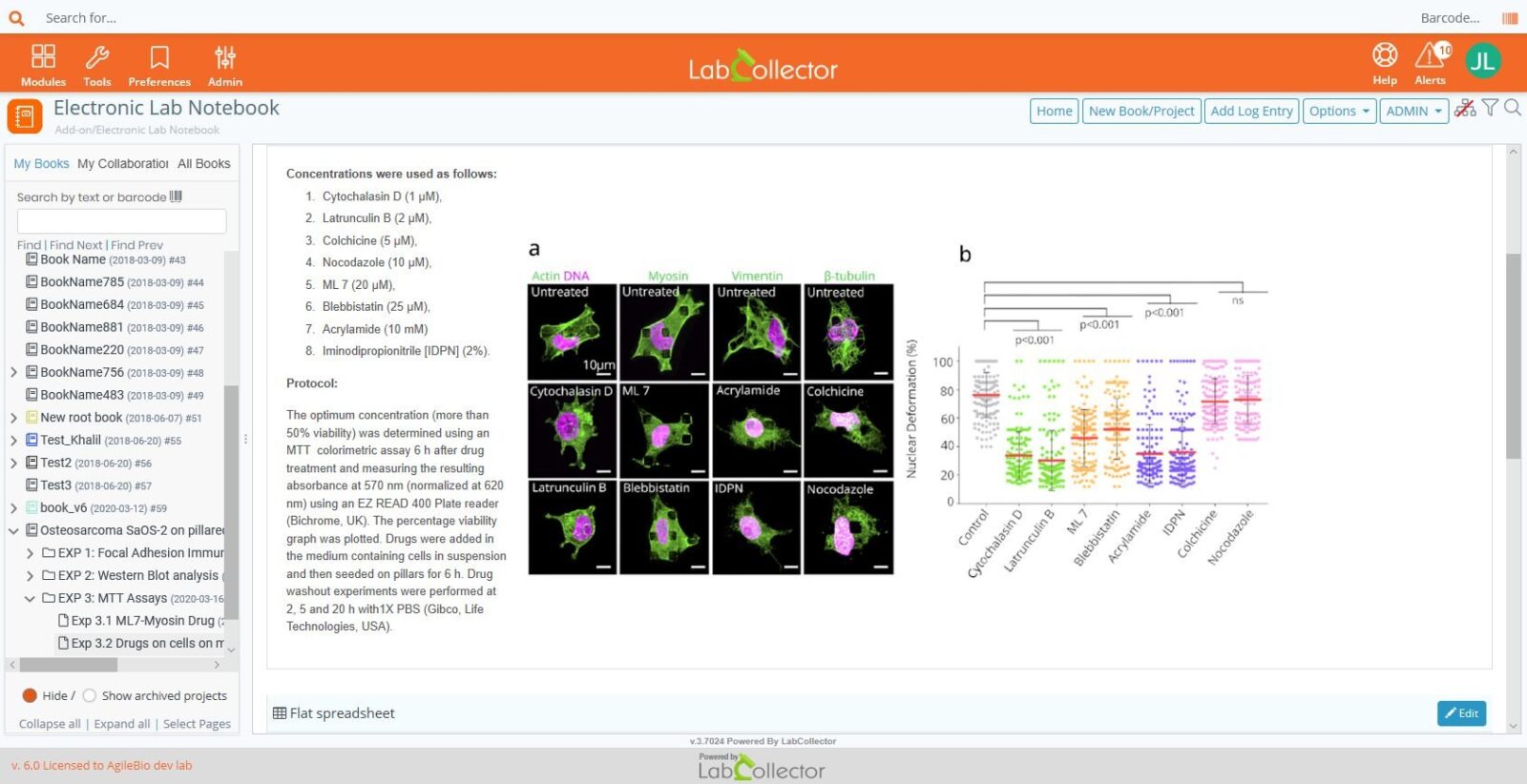 ---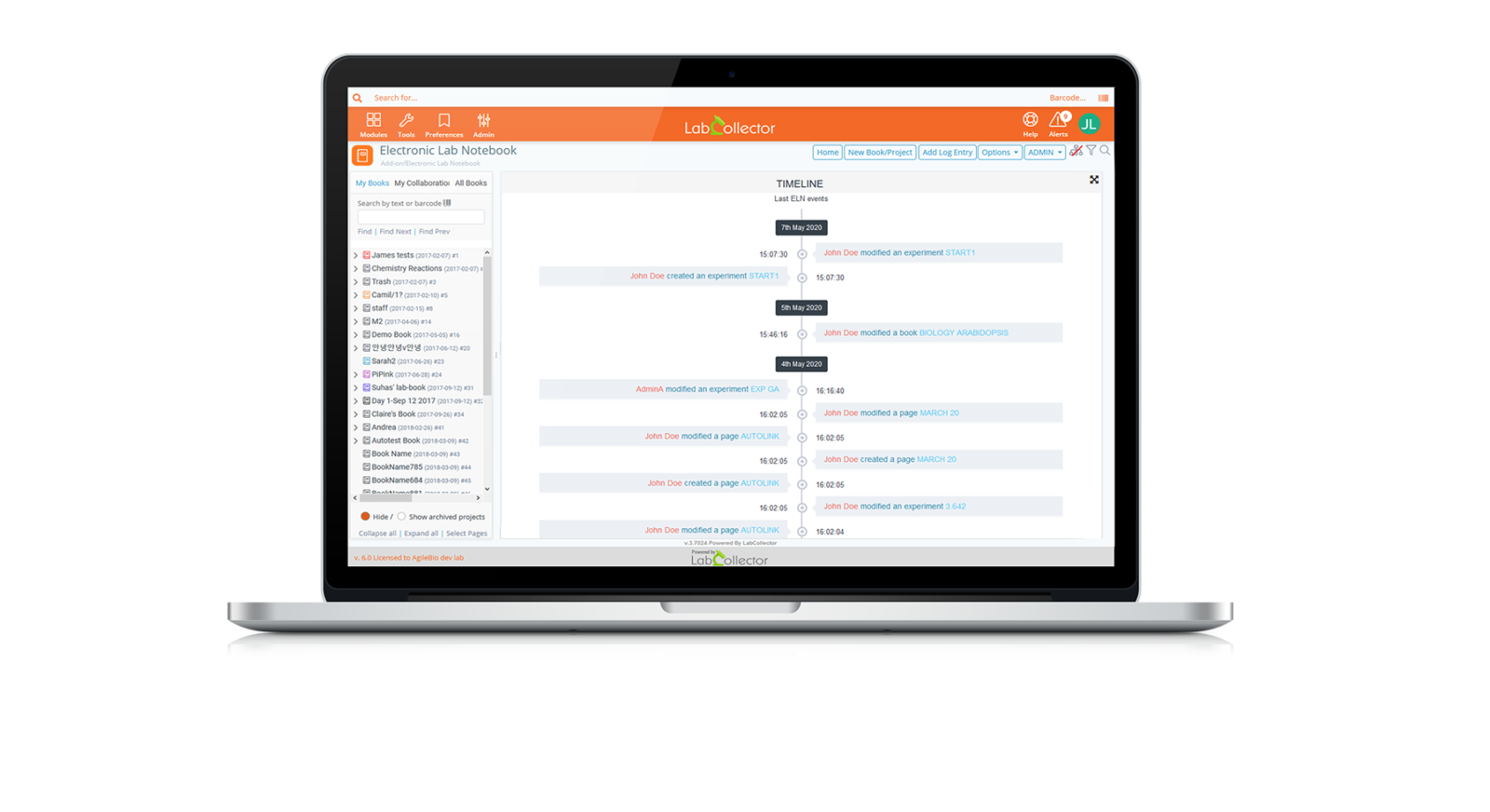 LABCOLLECTOR ELECTRONIC LAB NOTEBOOK
The easiest way to store, organize, find and store share your work !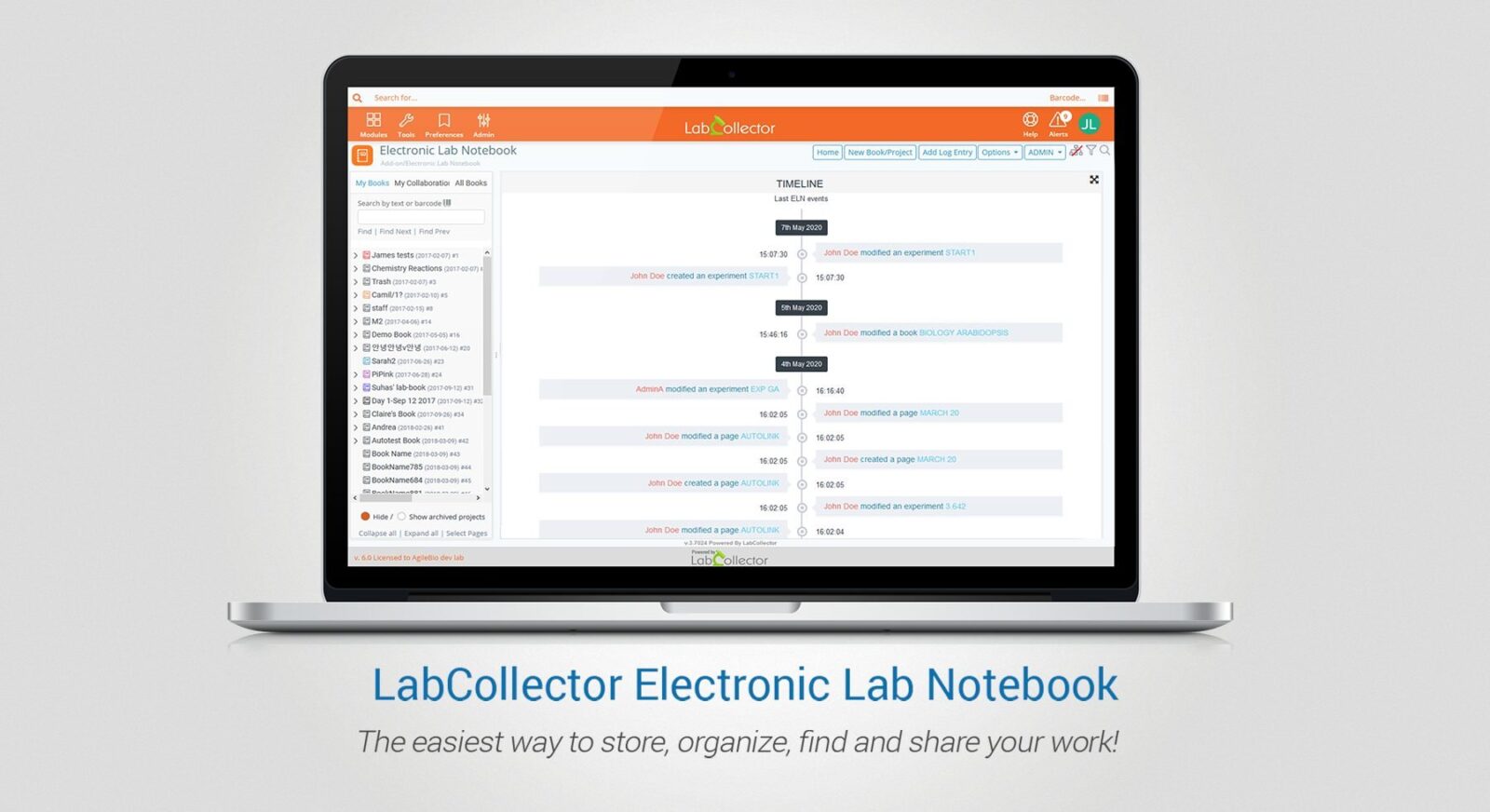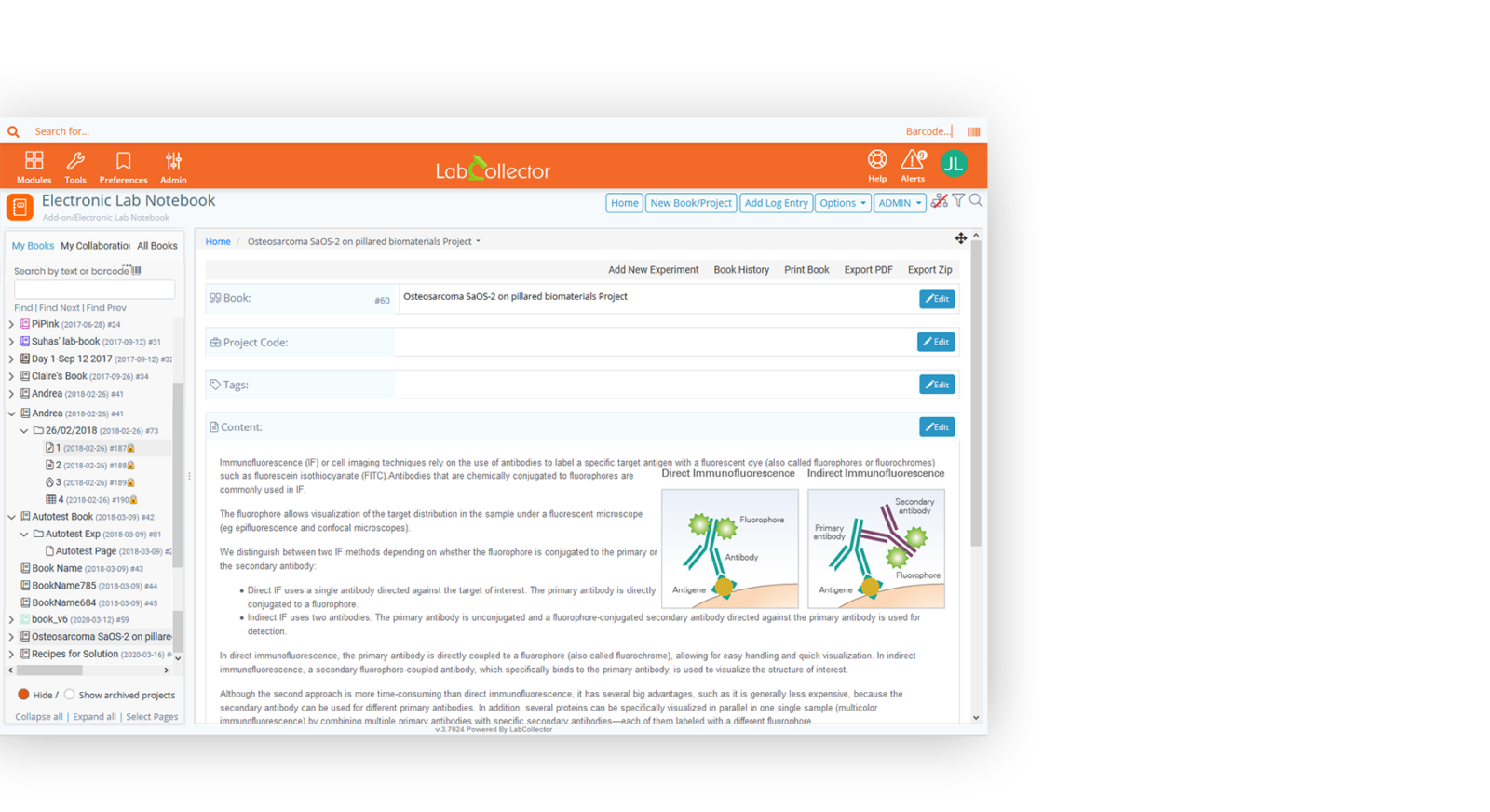 Unlimited Books and Experiments
LabCollector's ELN allows managing as
many books as you need to keep your
lab organized. Assigned books to the
appropriate staff to control access
for viewing, editing and reviewing
content.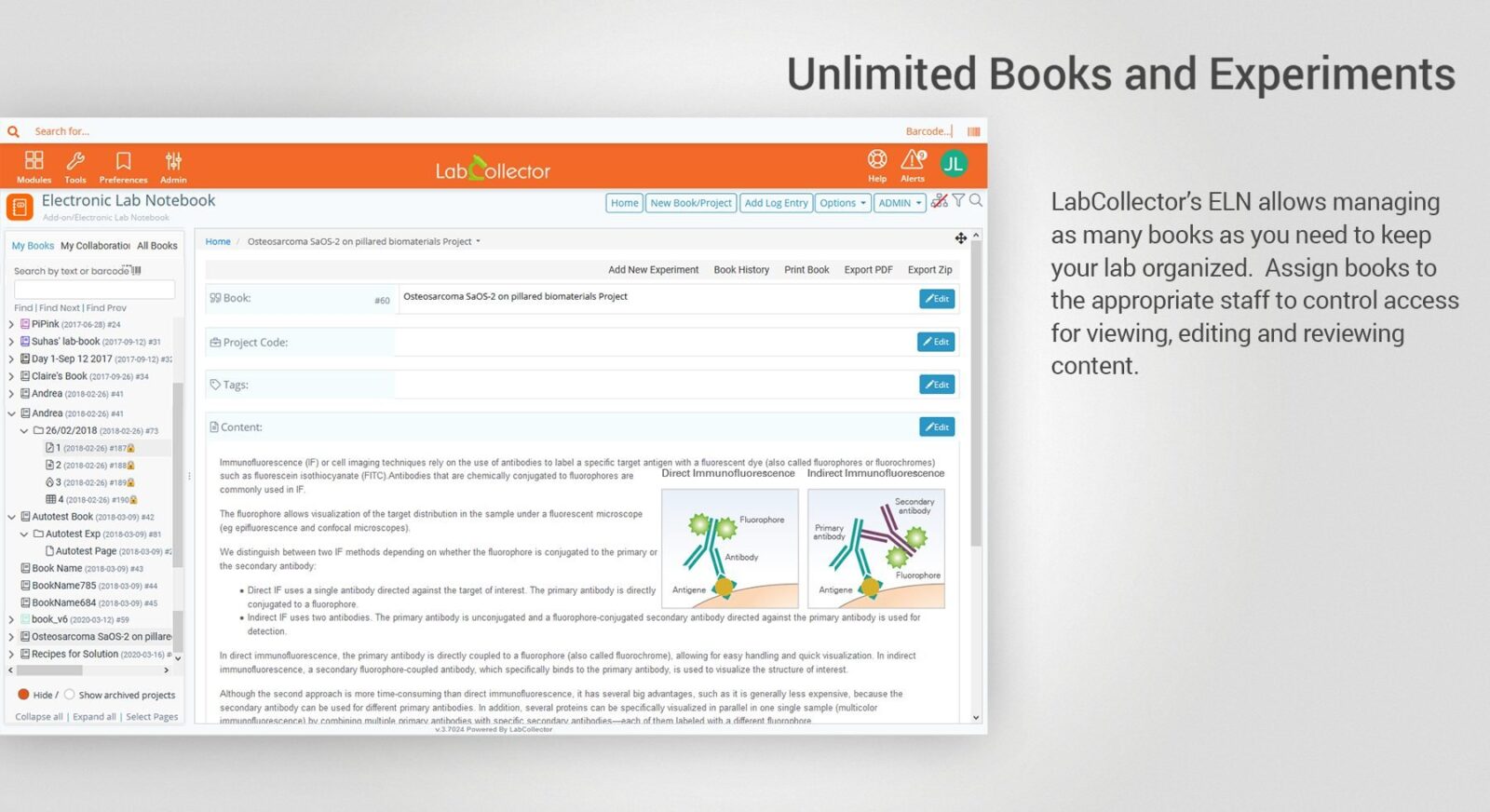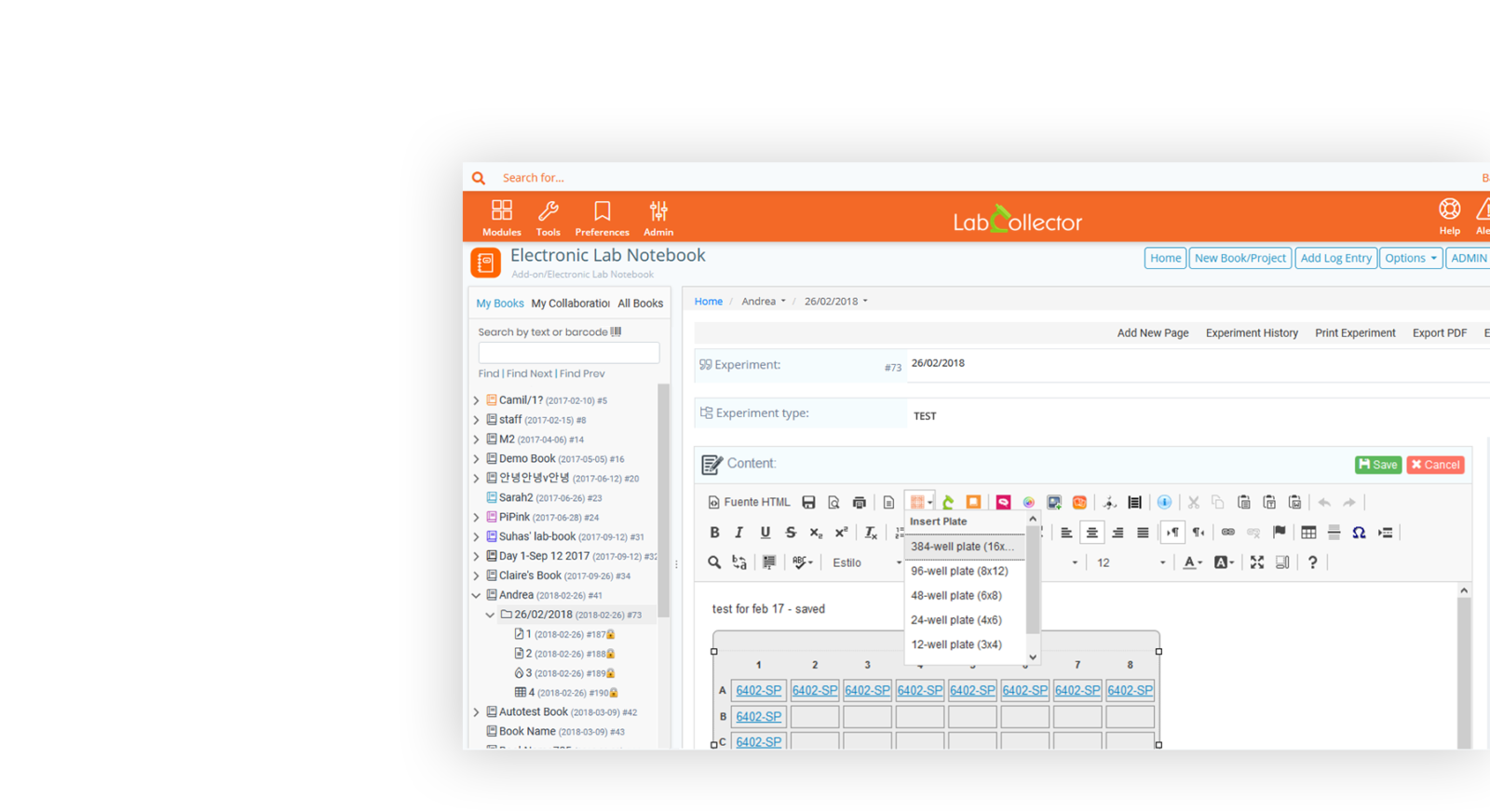 Integrate Complex Content
The content of ELN includes the
capability of a powerful text editor,
diagram designer,spreadsheets,
plus the ability to upload or link
data (row or processed).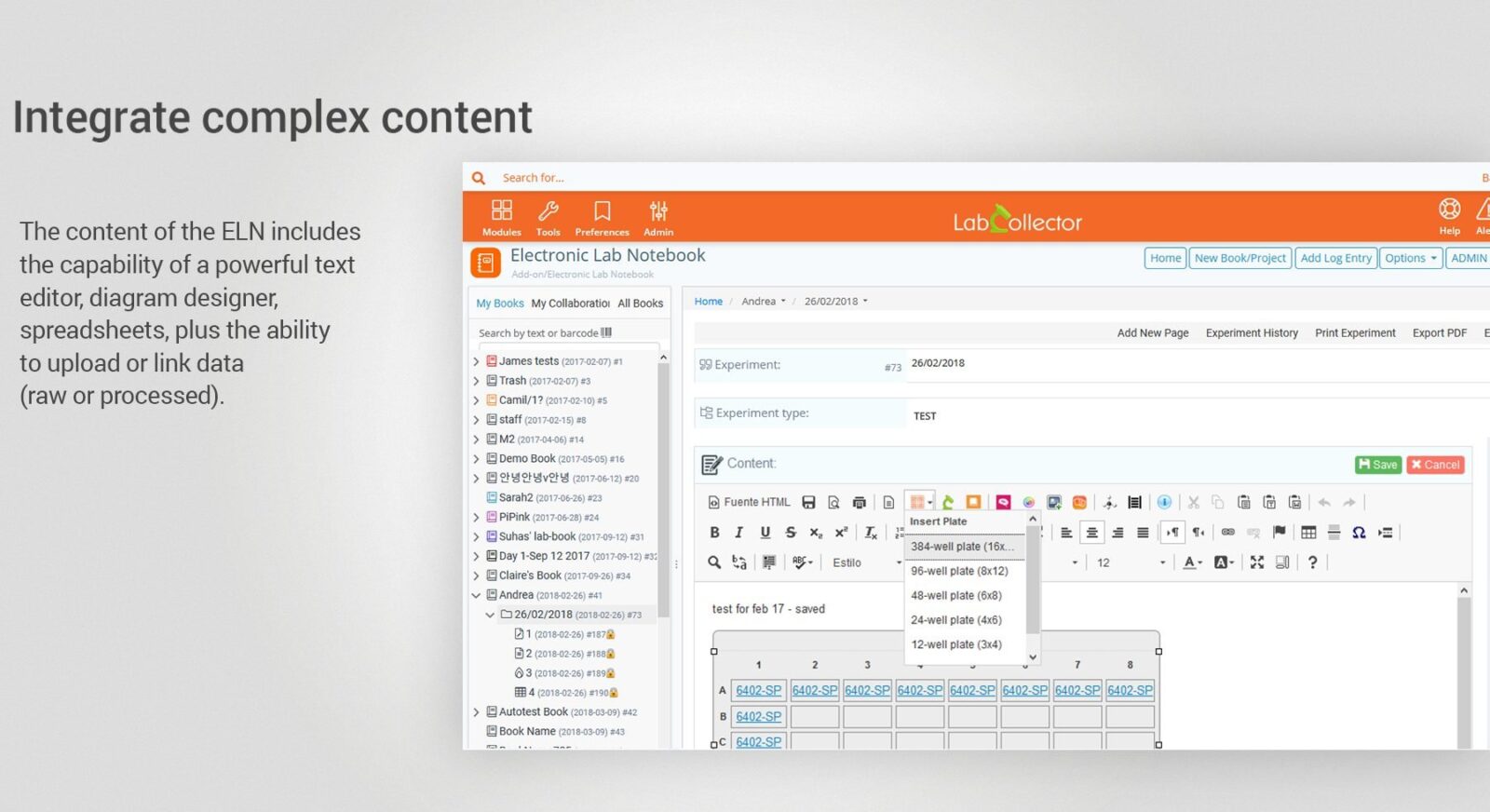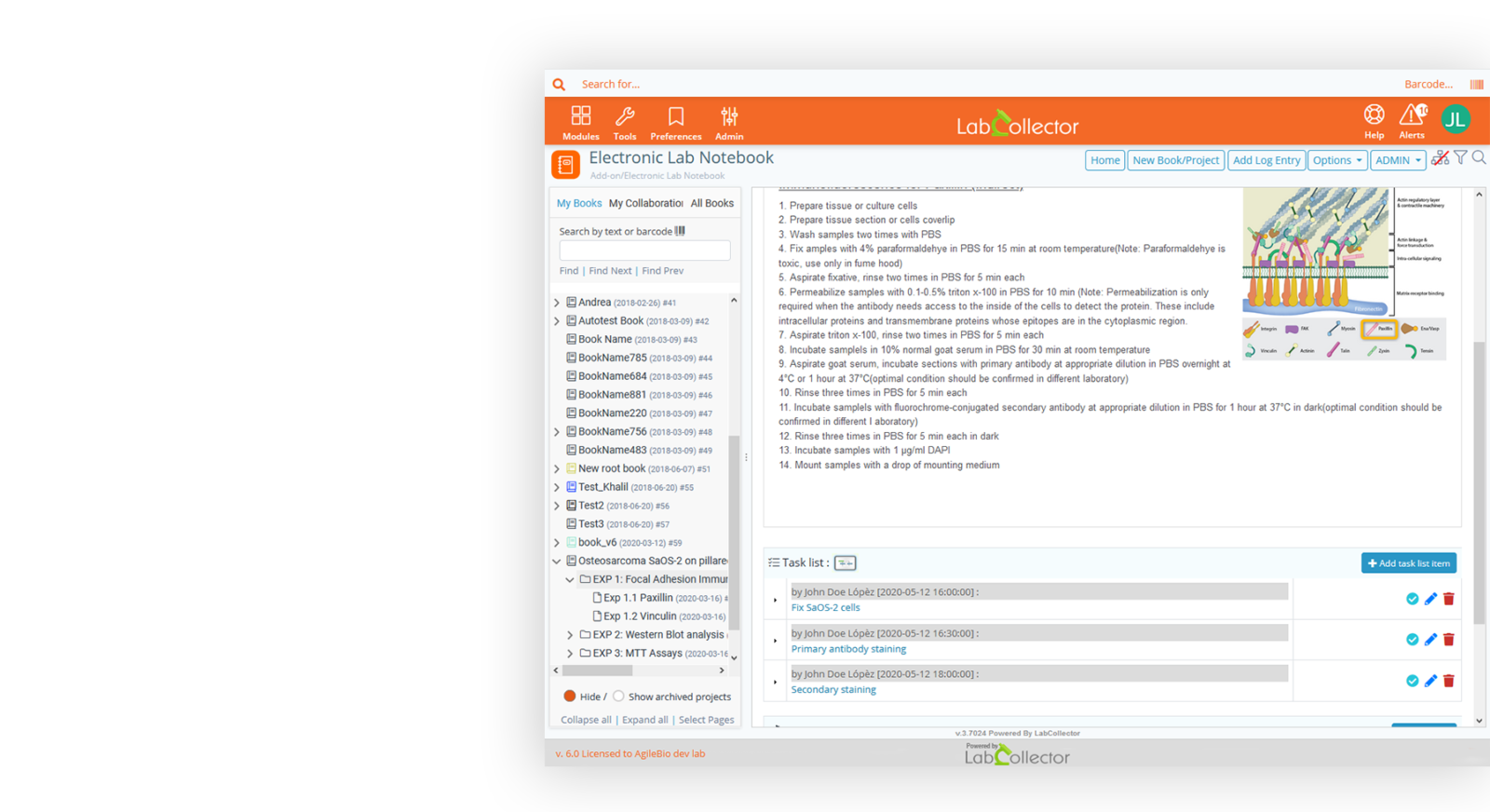 Task Lists and

Project Management

Complex experiments can be managed
easily by using templates and task lists.
These functions make scientists,
techinicians and managers aware
about the status and progress of
the experiment.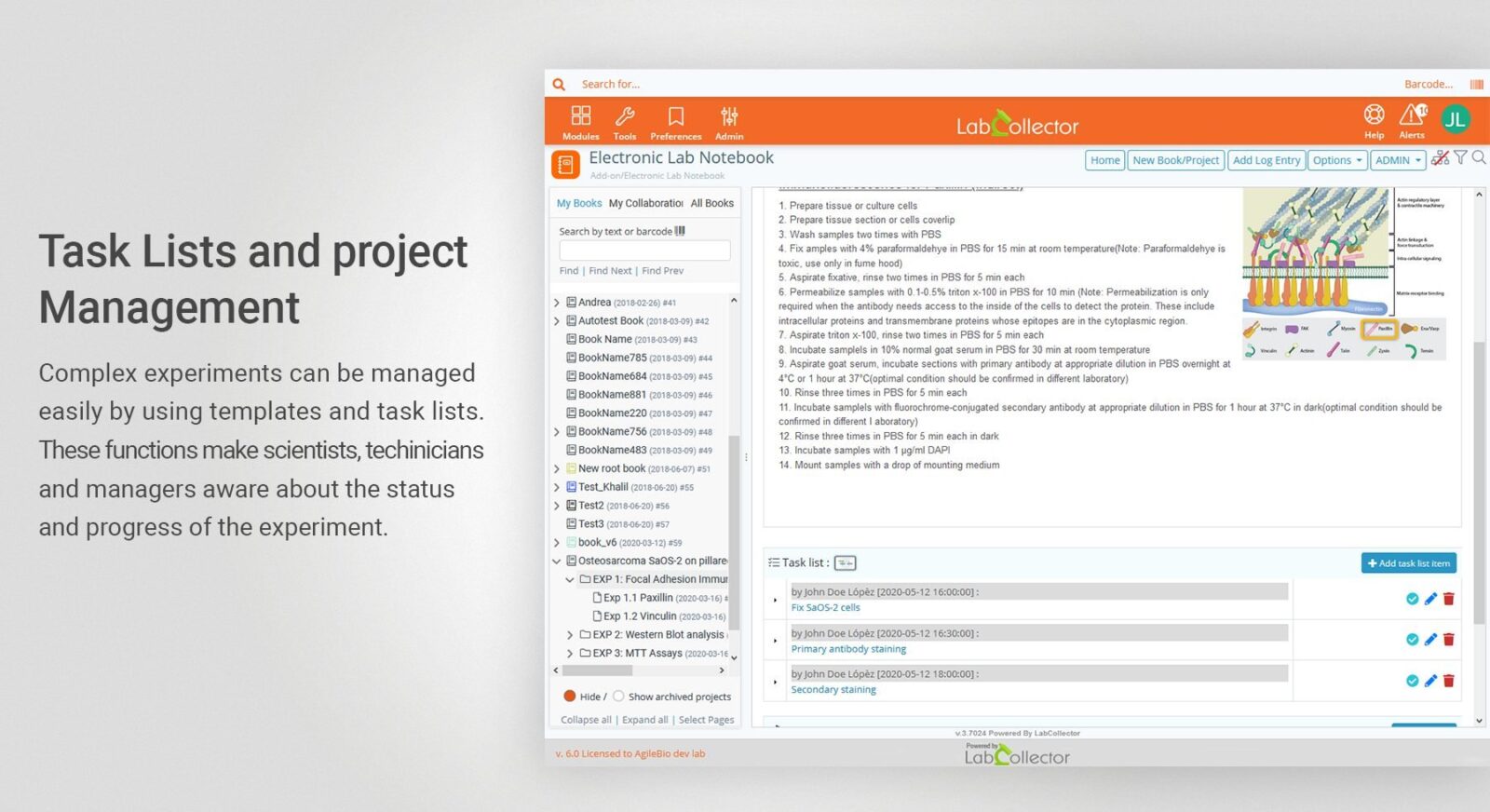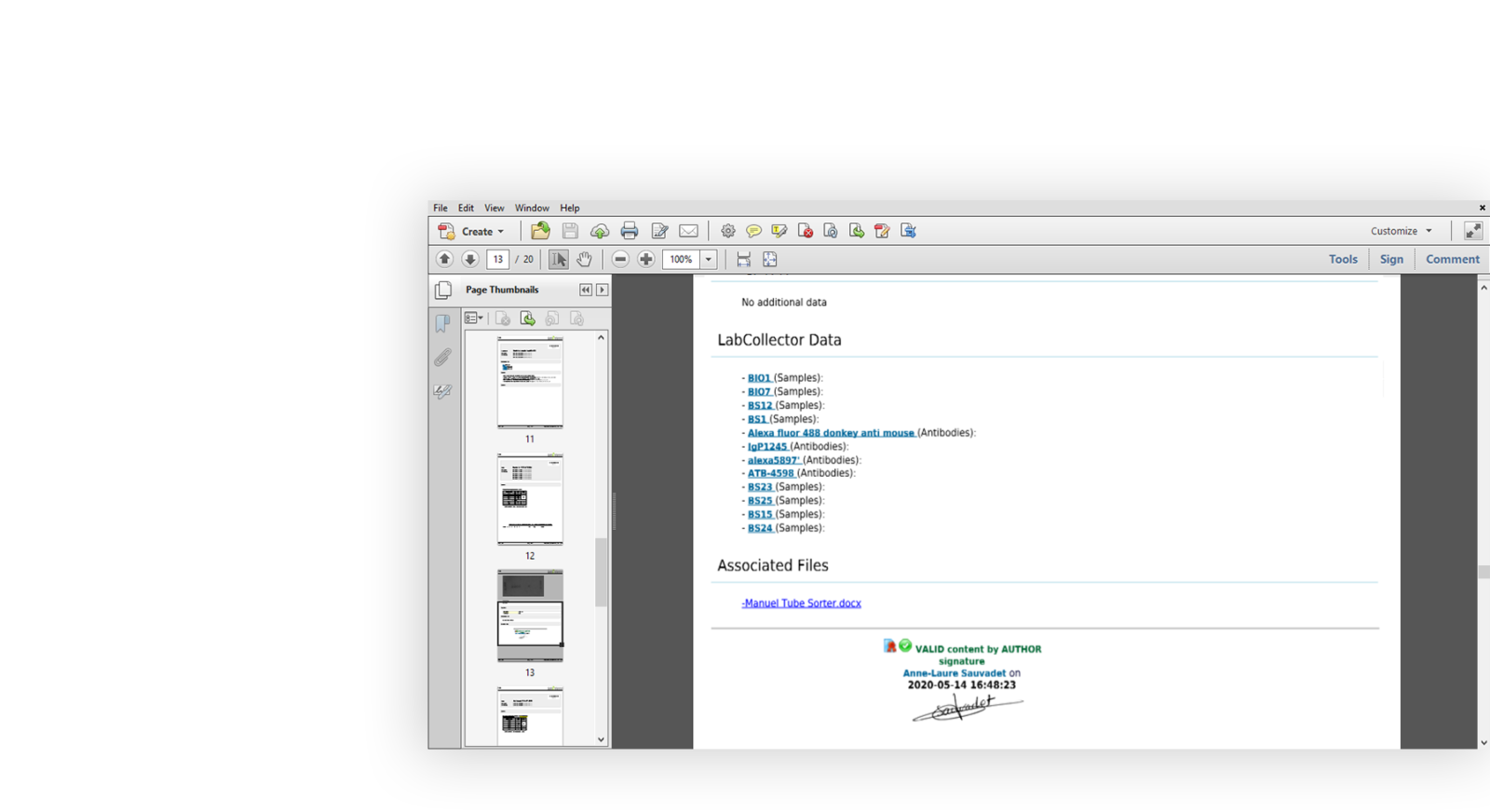 The ELN allows to include electronic
signatures. Scientists can sign
their notebook pages. Signed
pages become locked and can
no longer be changed. Managers
can review and countersign, and
add errata to completed work.
Printing or exporting pages as
pdf files to share work is made
easy bt ELN.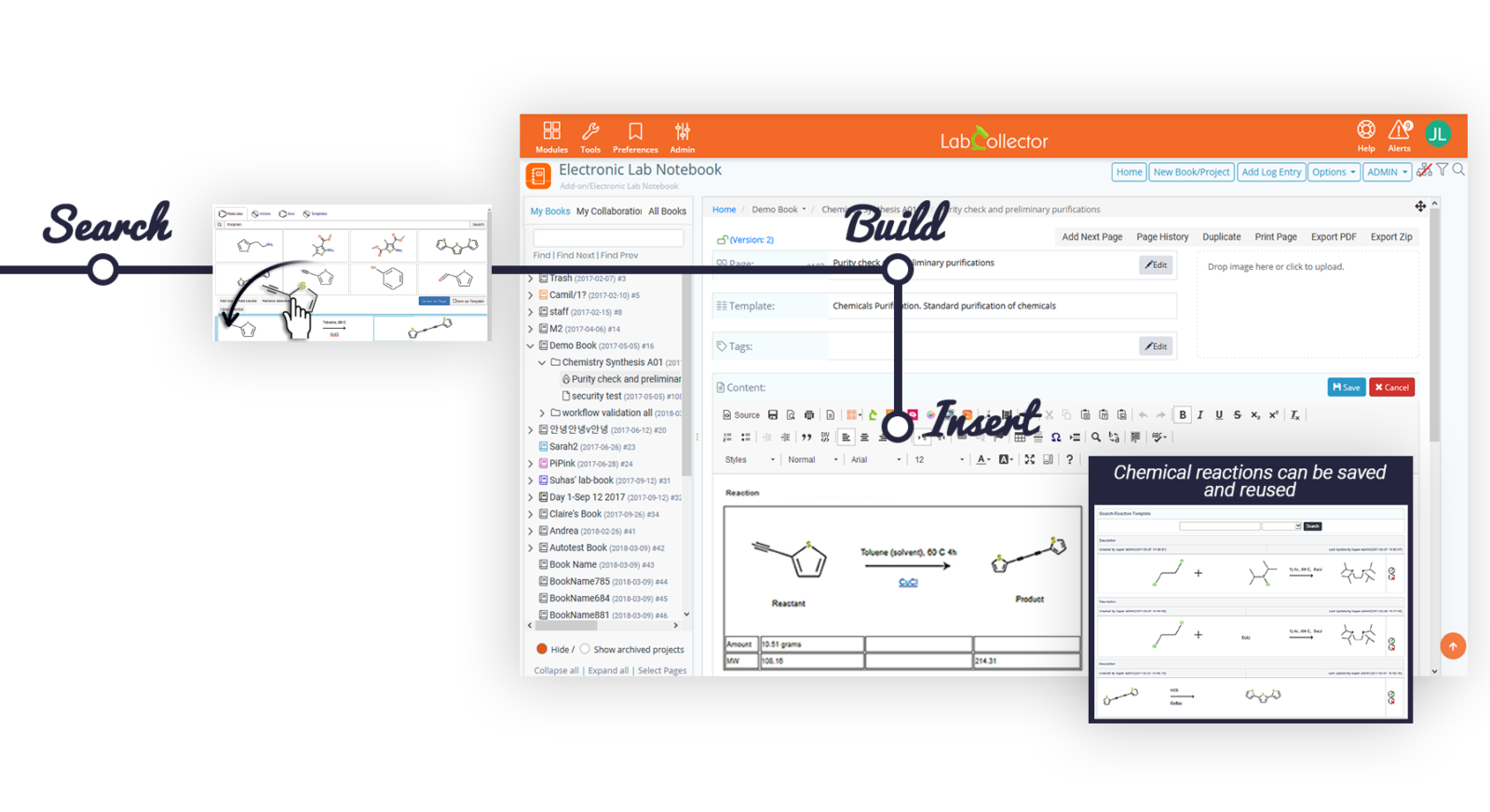 LabCollector's ELN offers chemistry tools
for designing chemical structures,
importing chemistry modules.
designing reactions and molecules.
You can quickly review chemical
properties or cross search structures
by ELN entries.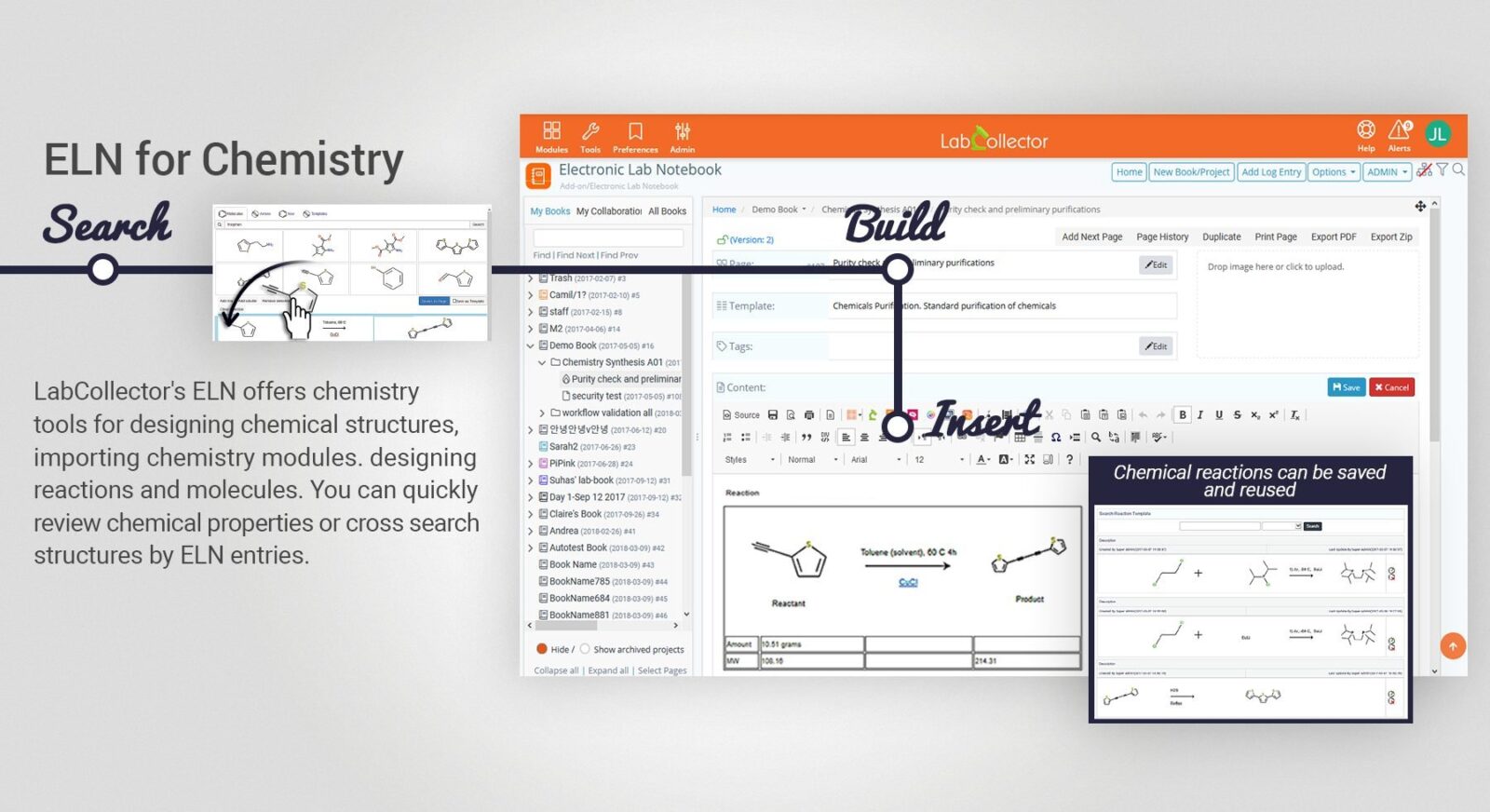 Personalización Extensiva
Desde la documentación de experimentos no-estructurados (biológicos, químicos, farmacéuticos, ..) de rutina hasta el registro de experimentos complejos, ELN le ayudara a cubrir sus necesidades mediante una personalización extensa.
Campos Personalizados
Diseño de Flujos de Trabajo
Formatos de Paginas
Formatos de Hojas de Cálculos
Selección de Lenguaje
Árbol de Navegación y parámetros de búsqueda
Herramienta de Diseño de Diagramas, para reacciones químicas complejas y esquemas de experimentos
Organizado y Colaborativo
Con el módulo ELN de LabCollector, ud puede organizar y compartir los datos entre colaboradores y miembros del equipo en cualquier momento desde cualquier ubicación gracias a la flexibilidad que presenta este módulo. Las herramientas claves para organizar y compartir datos incluye:
Uso Simple
Editor de Texto Enriquecido
Motor de búsqueda
Vista en forma de Árbol
Lista de Trabajos / Gráficos Gantt
Ambiente Colaborador
Carga Múltiple de Imágenes y Archivos
Enlace entre LabCollecor y ELN
Función de Archivar y Transferir Experimentos
Reporte de Tiempo de las tareas
Exportar/Generar Archivos PDF (con códigos de Barras y sumario, …)
Ambiente Seguro y Acreditado
El módulo ELN de LabCollector ofrece un sistema de conexión y de permisos seguro por usuarios, así como un sistema automático de respaldo de datos.
Configurar acceso de Usuarios
Conexión Segura
Permisos y datos compartidos seguros
Sistema de Validación
Auditoria
Registro de Actividades
Respaldo de Datos
Firma Electrónica
Sistema de doble firma electrónica basada en las normas 21 CFR Part 11 y otras patentes.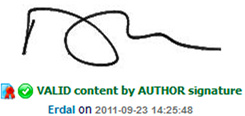 Nuestro ELN ofrece un sistema de validación de firma electrónica listo para usar que permite el chequeo de la integridad de los datos (basados en las normas 21 CFR Part 11 y requerimientos de patentes). Todas las paginas del libro de notas pueden ser firmadas por el autor y por los usuarios administradores. La firma electrónica es una prueba de la validez del contenido a la fecha de firma.

Totalmente Integrado con LabCollector LIMS
El libro electrónico de notas del laboratorio es un Modulo extra para LabCollector LIMS. Ud puede enlazar cualquier registro directamente con un registro especifico en LabCollector LIMS incluyendo documentos tales como protocolos y procedimientos operativos estándares (SOP), registros exactos de muestras incluyendo ubicación de almacenamiento. Integración con otros módulos como Banco de Fotos (Photobank) amplia mas la habilidad de conseguir rápido y fácilmente toda la información relacionada al experimento.
Flexible y Accesible
Libros, experimentos y paginas ilimitadas
Licencia Perpetua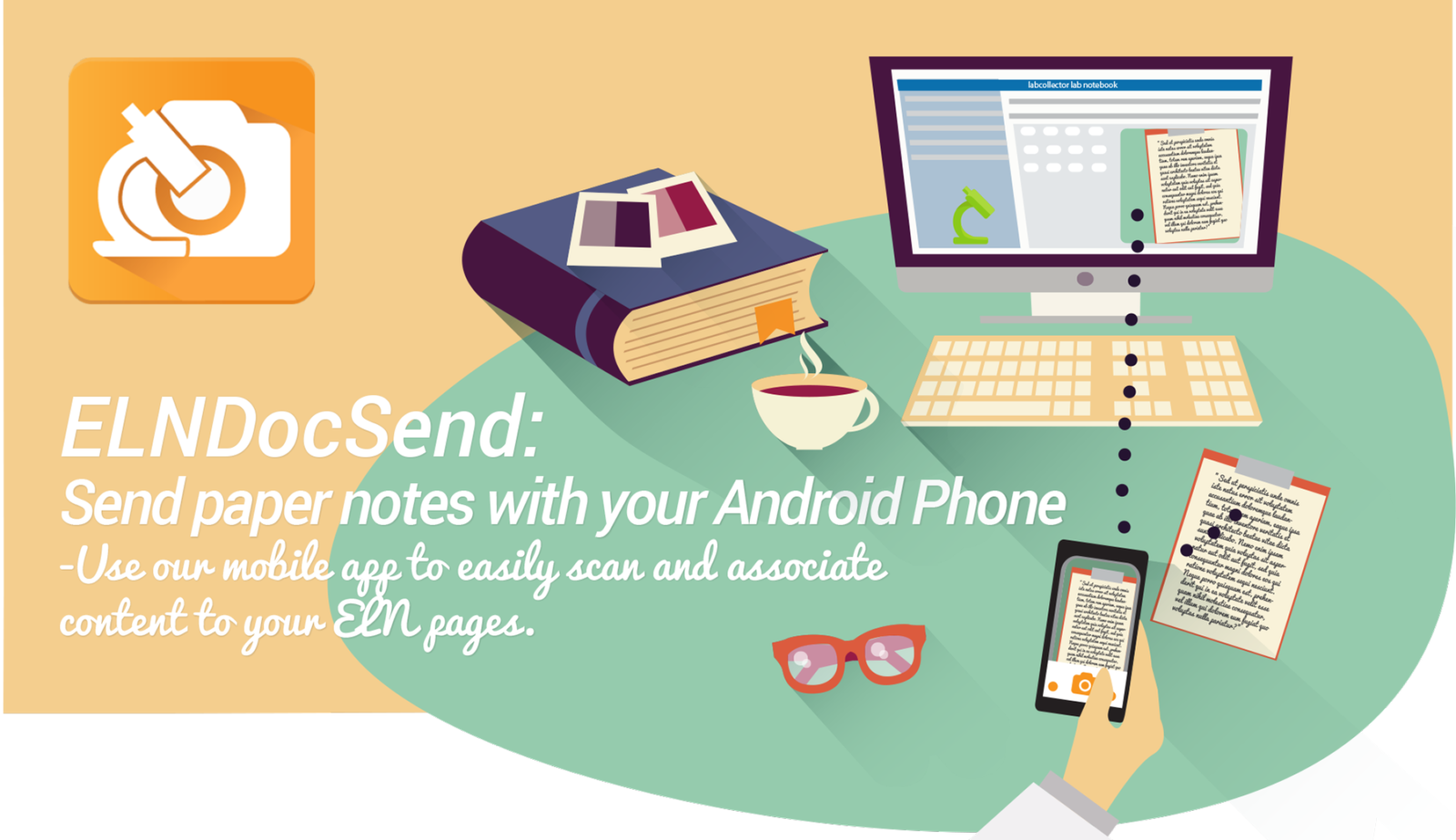 ELNDocSend: Envie notas en papel desde su teléfono Android.
ELNDocSend provee un servicio de escaneo rápido de documentos listo para ser usado por nuestra comunidad LabCollector ELN. Es muy fácil enviar paginas de notas a sus páginas dedicadas en su ELN, cada pagina puede recibir una foto o documento escaneado. Nuestra aplicación permite rotar/recortar el documento antes de enviarlo. Cada Usuario puede configurar su ELNDocSend usando API y enviar sus propias páginas. Esta aplicación le permite al usuario créate nuevas paginas de sr necesario. Descárgala GRATIS ya!!
Libro Electrónico de Laboratorio para Químicos
Nuestro libro electrónico de laboratorio es incluso compatible con usos químicos.
ELN Gratis Disponible
Incluso si sus 30 días de prueba gratis ha expirado, ud puede continuar usando ELN hasta un máximo de 500 paginas. Esto le dará mas tiempo para realmente explorar el modulo antes de tomar cualquier decisión. Y no se preocupe por los datos, ud los puede importar sus experimentos en cualquier momento.
---